One of the books in a tall stack of dusty volumes has caught my eye. I better not try and pry it out,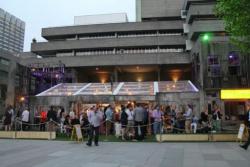 though- the bar will collapse. And I'd hate to cause a scandal on the Southbank. That's just not cricket- or, more aptly, croquet, since that's the tournament playing out this evening to mark the launch of Propstore.
The temporary riverfront cafe-bar has been erected by the folk at the National Theatre from old sets as a means of showcasing the props that would otherwise languish, unused, in the archives. Also, undeniably, as a means of having a summer-long knees-up. As we all know, street food, seasonal beverages and live late DJs at weekends are always a winning combo.
A bloodied, severed Frankenstein hand cradles a spirited drinks menu from Sipsmith, featuring thirst-slaking G&Ts alongside the Hammersmith distillery's very own Summer Cup- a gin-based, Victorian decoction that's herbal, decidedly more-ish and just a bit yum. It also packs a sneaky kick strong enough to bring the monster himself to life, so take it easy.
There's a whole kingdom's worth of animal life in evidence, too- Peter Pan's crocodile, the monkey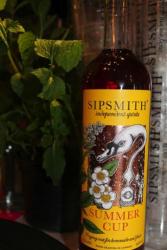 from Once in a Lifetime, a goose puppet from War Horse and a polar bear from His Dark Materials, clearly finding it hard to come to terms with these tropical climes. Luckily, palm tree from The Veil provides some much-needed shade.
The bar may be fashioned from a pool table, but even picky drinkers won't find themselves snookered, with Meantime ales and English wines on offer. The drinks might be a patriotic lot, but food is on a bit of a global jaunt- with snacky bites including beef and feta meatballs, pulled pork burgers, beetroot falafel and halabi lamb kebabs.
So the stage is set for all manner of theatrical high jinks, with Propstore the ideal backdrop for all manner of witty opening gambits- 'Need a 'hand'?!'. Know-it-alls with something to prove might brush up on the explanatory luggage tags attached to each item, before annihilating their mates at an object-related trivia game. Just be prepared for tears. The theatre brings out the drama in all of us.

Propstore is open daily from 24 May- 29 September, from 12 noon, with late night opening and DJs on Fridays and Saturdays. For more information, visit www.nationaltheatre.org.uk/insideout

Sipsmith's Summer Cup is available at Selected retailers and online, RRP £18.95. For more information on the distillery, visit www.sipsmith.com