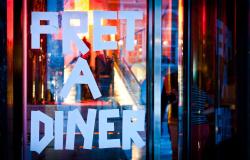 The punny name comes from Pret a Porter of course, understandably enough as the concept is a very fashionista one. Pret A Diner Italians Do It Better on 50 St. James Street is a trendy pop up, sorry 'dining experience' created by a mix of artists and Michelin starred chefs chosen by Giorgio Locatelli.
Actually, given the high prices, it's more of a posh up. Not that there were any obviously rich people the night we went There were however plenty of Hoxton chaps with the standard D.H. Lawrence haircuts and beards. At £75 for three courses, another £9 for dessert and another £8 on top if there's live music it isn't cheap. And you might even want wine with that.
In the newspaper you find at your table 'Il Corriere' the founders say the intention of Pret a Diner is to 'democratise' Michelin star dining, which is laudable of course but at these prices you could actually eat in quite a few regular Michelin starred restaurants and still get change.
What they really mean is that it's not 'stuffy' or 'feen deening' and so it taps into the current zeitgeist in the 20 something demographic for no fuss service and decor. It's a kind of Meat Liquor for people with a bit of cash and who spend a lot of time travelling between world capitals working in fashion and art. For them it's nostalgie de la boue, if you'll pardon my French.
The big room is thus banged full of art by contemporary Italian artists and kitted out as a New York urban baseball field, complete with high chainlink fences. This is the Grade II building's last hurrah before closure for conversion into a private club and it already has a designery scuffed up, decadent feel to it, right down to having no carpet on the magnificent staircase.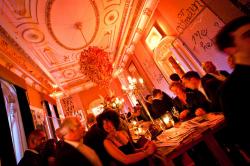 It is very nicely done though, very nice indeed. The grand room looks ab fab and the small tables, as well the central long table with stools and candles all around, are about eating and talking and in that respect it's certainly very Italian.
So too of course is the chef. Until 12th June, Viviana Varese from Alice Restaurant in Milan is running the field kitchen that's been set up in an adjoining room and which is open to view. Her avant-garde Italian cuisine is Michelin starred and from what I tasted, quite deservedly so. Playful, imaginative and a teeny bit demanding
I liked the bread served in paper bags (keeps it hot) and the menus on cruddy brown paper, both determinedly non-Michelin. A courgette flower stuffed with barely salted ricotta in a pool of tomato 'water' and designed to be eaten 'round the clock face' so as to pick up the subtle nuances of various herbs was good and very visual.
So too was King Polpo', oddly described as 'raising a royal squid on a potato throne'. It was actually octopus and not squid, the thickness of the tentacles gave it away, each beautifully butter soft, suggesting sous vide at work. The potato was layered in textures and careful fork-work enabled a mouthful of contrasts and flavour.
Third up was Painted Cockaigne; duck breast and a ball of foie gras in a raspberry gelatin skin that had echoes of Heston's Meat Fruit, but was thankfully much smaller. The foie was almost creamy and the rasberry's acidity was a perfect foil. The duck had also paid a visit to the sous vide bathhouse and its texture was resultingly unusual; a soft unctuousness that you don't normally associate with duck breast and all coated with a darkly flavoursome jus made from duck bone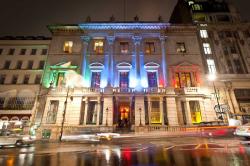 And finally, a golden dome of pastry over a biscuity base and flavoured with candied orange peel and vanilla. Elegant and just rich enough.
I can imagine much of Pret a Diner will enrage some restaurant critics what with its prices and, let's admit it, slight pretentiousness. If you're the sort of person who spots a £500 shirt and sees no problem in buying it though, then you will feel happily at home here. The line-up of chefs to come is impressive and the whole thing is a pleasant change from both stuffy fine dining and the current fad of burgers and ribs for people with teenage palates. If you've got the money, then get pret and book now through the Pret a Diner website as there's not long left to dine in decadence.