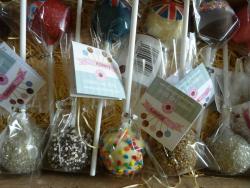 Every now and then a new product bursts onto the market and you wonder why no one had thought of it before. I don't mean the reinvention of something that slipped out of favour and was transformed into renewed desirability and yes, I'm talking about the fairy cake – or, rather, what we now have to call the cupcake. How disappointing they are – plain, dull and often a slightly too dry crumbly cake which badly needs vast amounts of butter icing, sorry, frosting (the only bit worth eating) swirled on top. Even they, surprisingly still fashionable and ubiquitous, are drifting towards having had their day. Chasing them out of the top spot is the PopKake.
I first experienced a PopKake when gazing out over Trafalgar Square at the newly-launched Graze at Vista, the roof top bar of the Trafalgar Hotel. With the sky turning sparkly with stars, being handed a glittery ball of cake on a stick, encased in shiny cellophane and with a pretty label attached with a silvery twist, was a smile-raising moment. Three or four delicately bitten-off mouthfuls was all that was needed to provide a sweet and sticky end to a drink-soaked evening.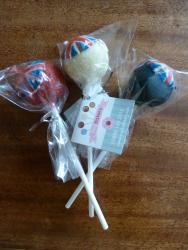 And then came the chance to review them. A boxful. Twelve. Sent before the Jubilee weekend, three made me smile: one red and sparkly, a second white and sparkly, a third blue and sparkly, each with a Union Jack decoration. They didn't last long. Moist and chocolately but, as seems to be the PopKakery way, not over-sweet.
My favourite? I thought it was the Karrot Kake – a nice balance of cake to carrot, ultra-moist and much better for not being covered in sickly icing. But, now I've tried more of the range, it's the Krumbles 'n' Kream – very chocolatey and with a well-defined taste of cookie. Or is it the PopNoir, with the slightly bitter undertone of a good dark chocolate with a thin, crisp layer of more chocolate, dipped in colourful minute balls of icing? It is impossible to choose … but not impossible to find reasons for doing so.
For evening glamour I recommend Bling Bling – covered in sophisticated rectangular gold sugar sprinkles, it's richly chocolately too. For weddings: Sparkle, a fluffy cakeball covered in white chocolate and glittery silver sucre. For indulgent hen nights or, without meaning to put off the adult hens, to make much younger chicks having a princessy dressing-up party (or pre-teens at make-up parties) feel sophisticated and grown up. For romance, Red Velvet would quicken any heart just for its sensual blood red coating, long before you wrap your lips around it and sink your teeth into is creamy-cakey centre. For Jewish celebrations: be reassured, production of Kosher versions is overseen by the London Beth Din.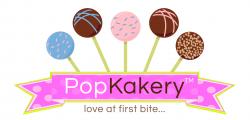 New flavours, with appropriate decoration, are being developed. I'm looking forward to onw with a citrus zing – lemon or lime, please – to round off summer picnics (very light and easy to carry plus no bowls or plates, or spoons or forks required). A green tea PopKake is also coming soon. Special orders – any flavour, any colour – to match your mood or occasion, are possible; just talk it through with the PopKake team.
PopKakery has obviously spent a lot on marketing. It's so well thought-out, with a trade marked brand name, that I assumed it was a franchise that had drifted over here from across the pond. Not so. Yes, the idea comes from America but PopKakery is an independent British company, under a year old and growing fast.
A ping-pong ball sized piece of cake might seem rather mean for something that is meant to be indulgent but they are deeply satisfying. One is all you need. What another? No thanks; I couldn't. No, really. Well, I shouldn't. Oh, all right then. Perhaps I will. Now, which one …
What took them so long to cross the Atlantic?