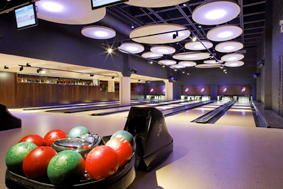 All Star Lanes, has opened a third venue in the East End of London, at the Old Truman Brewery on Brick Lane. Mixing premium bowling with the food, cocktails and music. the latest All Star Lanes in London embodies all the signature elements of the All Star Lanes experience. At over 22,000sq ft it's the largest All Star so far, with a total of nine lanes, six on the ground floor, with a drinking den specialising in classic American cocktails, pitchers and American beers and ales. A 20ft long copper bar counter runs the entire length of the lanes gives views through to the psychedelically lit bowling area beyond. Intimate areas, for small groups, in bright coloured tufted leather booths within the bar offer a more private room option Here customers have the chance to sample the largest section of America bourbons this side of the pond.
The private room with its three lanes is designed to accommodate groups of 100+ whilst still being a space to be enjoyed for a more intimate private party. The room will reflect a 1950s style penthouse playroom, with white upholstered walls, a club-like horseshoe cocktail bar and an open kitchen offering a more bespoke food offer. A state of the art colour changing lighting system enables companies to brand the room with their own colours.
Luncheonette
Also new to the Brick Lane venue is Luncheonette, a 200 cover restaurant serving the best of traditional and modern American cuisine with old favourites such as the Lobster Sandwich and hand picked Louisiana Crab Cakes as well as the Jumbalaya Risotto and the San Francisco Seafood Cioppino. For the meat lovers, head chef, Steve Collins, (previously head chef at Quaglino's, 2002-2005), will also specialise in 14 hour Smoked Bourbon Baby Back Ribs and Memphis Style Dry Rub Brisket and Pork Belly.
At the front of the restaurant the horseshoe counter at Luncheonette offers customers a quicker eat-in or take-away option serving up an American deli and sandwich menu. Also including a selection of Hot Dogs, classic Milkshakes, Home-made Doughnuts, and fresh Waffles to order, customers will enjoy the American style counter service while taking in the passing buzz of Brick Lane. Luncheonette offers an all day dining experience aimed at drawing in local customers to simply enjoy a fresh, honest and value for money dining experience.