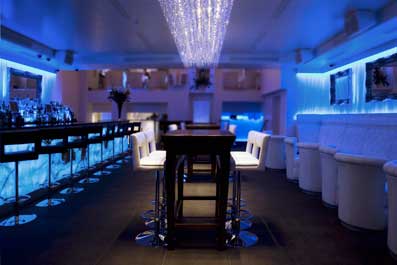 Aquum is in the heart of Clapham and spread over three sleekly designed floors, with quality service andfood, all in a beautiful setting. At night, Aquum transforms into a style bar, boasting innovative cocktails, Top DJs, and a unique party vibe.
Boasting a capacity of 400, Aquum's interiors have been designed by GMP Design to create a glamorous space that caters both to relaxed dining and upmarket drinking, using beautiful textures and clever lighting to smooth that transition from day to night. Aquum's ground floor bar and dining area is a relaxed and airy space serving light, expertly prepared dishes and delicious cocktails. Below, the lower ground dance-floor is surrounded by a luxurious seating area and a prominent DJ booth. Overlooking the ground floor behind vast glass panels is the mezzanine VIP lounge, which offers table service and exclusivity.
Designed by the mixologists behind Lab Bar and Town House, Aquum's extensive cocktail list contains a well balanced mix of classic and bespoke creations. Split into Sunset and Moonlight, the selection of cocktails and prices adjust as the evening progresses, meaning you can enjoy light and long cocktails after work and heady martinis later into the night.
Examples from the menu include:
• Lazy Berries
Havana Especial rum with apple and strawberry and a hint of mint over crushed ice.
• Clover Club
Fresh raspberries and Gin with lemon juice, raspberry syrup and egg white served
in a chilled hi-ball glass.
• Lychee and Peach martini
Fresh Lychee and peach vodka give layered flavors of delicate fruit.
Aquum's Head Chef has designed a menu of light and easy to share platters that complement the cocktails on offer, focusing on small dishes such as sushi and dim sum. Aquum's flexible and thoughtfully designed space makes it an ideal option for private hire. Offering a mixture of intimate booths and large areas, Aquum can cater to any type of event, its knowledgeable staff working to tailor canapé and cocktail menus specifically to the customer's taste.
68-70 Clapham High Street,
London,
SW4 7UL
T: 0207 627 2726