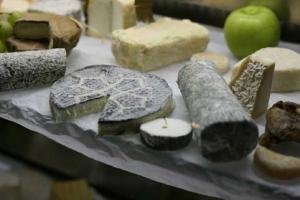 L'Art Du Fromage, a unique new gastronomic experience for London diners has just opened in Langton Street off London's Kings Road.
Speciality cheese restaurants are not uncommon in France and the concept has been brought to London for the first time by two 24 year old French entrepreneurs, Jean-Charles Madenspacher and Julien Ledogar.
Cheese is an ingredient in most of the dishes on the menu (there is even cheese ice cream!) and including seasonal varieties, L'Art Du Fromage expect to be offering up to 200 different cheeses throughout the year.
They will all be unpasteurised and like all the other ingredients used in the restaurant's kitchen, they will be sourced only from small producers and farmers in the French countryside.
Many of the wines from L'Art Du Fromage's cellar are also from small regional producers.
The opening menu comprises eight starters and an extensive list of main courses which includes a revival of the classic fondue which was a hugely popular eating experience at dinner parties in the Seventies and Eighties and which L'Art Du Fromage offers in four delicious cheese and liqueur combinations.
The mains also include the traditional French dish Tartiflettes, which is served in five different combinations, Raclette which comes with baby potatoes, charcuterie and pickles, and four cheese boards each comprising up to 20 different varieties which are served with five different breads, jams and nuts.
The menu will be changed every two or three months to reflect the availability of seasonal foods.
Julien and Jean-Charles grew up as neighbours in the tiny village of Thann in the Alsace region of France which is where they developed their passion for good food and wine and where traditional manufacturing methods are still used.
It is this traditional culture which Julien and Jean-Charles who are respectively cheese and wine specialists wanted to bring to London and which they are now offering through L'Art du Fromage.
L'Art du Fromage, 1A Langton Street, London SW10 0JL