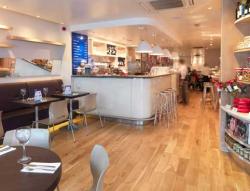 I like old Carluccio, I like his passion and I like his food and I share his love of wild mushrooms. In fact it's thanks to his books on mushroom collection and cooking that I have safely foraged these last few years.
Well the now the grand old man of Italian cooking has moved into Wimbledon where ladies who lunch are thick on the ground
It's his usual combination of caffè, restaurant, alimentari foodshop and deli and will be open all day, offering customers everything from a cooked breakfast, morning coffee and light lunch to a shopping pit-stop or a three course meal with wine in the evening.
Using seasonal ingredients, many sourced direct from Italy, typical mains include a range of homemade pasta such as linguine al frutti di mare (fresh linguine squid rings, mussels and prawns) and the classic ossobuco alla Milanese (braised shin of veal with tomato sauce, served with a creamy saffron risotto). It's not a bad price either, on average three courses with a glass of wine will set you back £15.
The new caffè features rustic light oak flooring, pale blue banquettes, Ingo Maurer pendant lighting, a high quartz-topped bar and a community table for ten,
Carluccio's works with small, artisan producers all over Italy to source its olive oils, vinegars, pastas, sauces, rice, wines, biscuits, chocolates and other specialist food products. In the deli there's a selection of fresh salamis, cheese, salads, olives, tarts and baked food items as well as a range of take-away dishes
Carluccio's, 25 High Street, Wimbledon Village SW19 5DX
MENU DELLA CASA AVAILABLE FROM MARCH 1ST
Fixed Price Menu
2 COURSES £9.95
3 COURSES £12.95
PRIMI
Pate Di Fegatini Di Pollo
Homemade chicken liver pate
with toasted Italian bread and cornichons
Bruschetta
Ripe tomatoes with herbs, roasted peppers
and extra virgin olive oil on toasted Toscano bread
Focaccia All'aglio
Chargrilled garlic bread
SECONDI
Homemade Ravioli
Filled with spinach and ricotta, served with butter and sage
Penne alla Luganica
Tubes of pasta with a rich and spicy Italian sausage sauce
Milanese di Pollo
Breast of chicken flattened, bread-crumbed and fried,
served with a green salad
DOLCI
Panna Cotta
Vanilla and rum set cream with candied orange peel
Tiramisu
Savoiardi biscuits, espresso and coffee liqueur with mascarpone
Mandarin and Melon Sorbet
or any other ice cream combination
Add a large glass of Sicilian Sicani wine for £3.50