Old Dogs, Improved Tricks
Traditionally British and as'oh yah' as a Barbour jacket teamed with red trousers and slip on loafers, Bumpkin is undergoing a bit of a reinvention. In July they opened a new location in Chelsea, and reopened another in Notting Hill. Though the two represent the subtle differences between the two post codes, Bumpkin's basics remain the same. British food and lots of pictures of The Queen.
The Right Blend of Posh and Nosh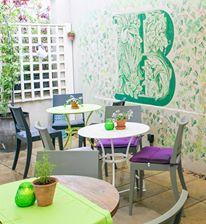 Being from South-East London, I don't often venture to South-West, though I always find the townhouses, one of which is now home to the newest Bumpkin, utterly charming.  Set in the heart of Chelsea and just off The King's Road, Bumpkin Chelsea is as pretty as a freshly mown lawn with super-high ceilings and a fresh and flowery interior. Its star attraction is the Secret Garden, a more glamorous garden shed/party-venue with lights strewn all over the place and twee tea pots doubling as vases.
I was there on a drizzly summer evening in early July for the launch party (before London had relocated to the sun,) wearing a pair of John Lennon wine-bottle coloured specs that I'd been gifted by organisers. Sipping thoughtfully on an English Garden, one of the only cocktails I've had recently that tastes as good as it sounds, I enjoyed the casual atmosphere, made all the more enjoyable by the constant stream of barbecued goodies, mini burgers and champers.
The menu itself follows the Bumpkin mission statement: British food that is ethically sourced and traditional, and unfortunately because I was chomping down on BBQ skewers I didn't get to try any. Think of the Chelsea branch as an extension of a successful brand that is benefitting from all the patriotism that is flying around these days. Those who are to blame for that shall remain nameless …
More Than a Lick of Paint 
Bumpkin Notting Hill is a little different. Larger and with a smidge more personality, there are quite a few more menus available owing to the fact that there are themed rooms on each floor. The bar & grill on the ground floor is quite satisfactory for a cocktail or two and offers bar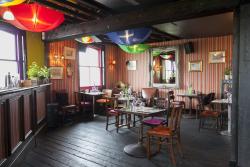 food, salads and the like, while the Queens Room, Clock Room and Carnival Room (no prizes for where they got that name from,) all offer more substantial nibbles and mains and can be hired out for private functions. I have to admit I was slightly more partial the Notting Hill location for its laid-back and relaxed atmosphere.
Having long since been a place where the artists and creative's congregate, Notting Hill is a little bit bohemian, which is surely reflected in the feathery mask I was gifted upon entry, and the umbrellas of the carnival room. The Clock Room, which boasts a table top likeness of Big Ben, is, you guessed it, full of time pieces and a massive TV, so is perfect for lunch meetings or get togethers with friends who don't want to miss any more tumbling Australian wickets this summer. If thanks to all the recent excitement you want to thank the Queen for the bountiful British food you'll be eating the room named after her is a good choice, and even comes Duke and Duchess of Cambridge approved.
You have to hand it to Ignite and Bumpkin- a few years ago a restaurant chain that prided itself on its patriotism and royal connections would have suffered, but they've managed to ride the wave of positive public opinion and align themselves with  the thoroughly modern, post-Olympics approach to national pride.  If you're already in the area, or looking to tick the Chelsea-chic box, this new restaurant delivers, and the cool retro vibe of the Notting Hill branch goes perfectly with cocktails and heatwaves.
Where:
209 Westbourne Park Road London, W11 1 EA Tel: 020 7243 9818 Email:  bnhreservations@bumpkinuk.com
119 Sydney Street London, SW3 6NR Tel: 020 3730 9344 Email:  bcreservations@bumpkinuk.com