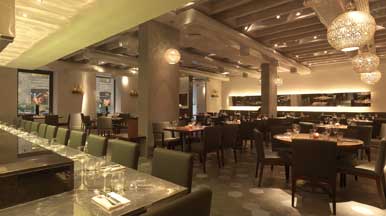 Vivek Singh's Indian cuisine has been the preserve of Westminster, but now with the launch of Cinnamon Kitchen, this new concept introduces his talent to the City.
Rather fittingly located in the historic East India Company spice warehouses, transformed into the stunning Devonshire Square development, Cinnamon Kitchen is just a short walk from Liverpool Street station. With the celebrated executive chef Vivek Singh and managing director Rohit Chugh at the helm, the restaurant serves modern Indian cuisine inspired by the same ethos of the highly acclaimed Cinnamon Club, but in a more relaxed and informal setting.
A genuinely unique all day dining destination, simply pop into the Cinnamon Kitchen for a spicy breakfast or much needed brunch, take a seat at the capital's first Indian grill and tandoor bar or enjoy a lunch to share, savour an evening snack on the way home or take the time for a decadent dinner.
Less structured than his Cinnamon Club menus, the Cinnamon Kitchen provides diners with the opportunity to further explore Vivek's style. Continuously exploring and challenging culinary traditions, Vivek goes beyond authenticity to discover new flavours and draw on the diversity of the subcontinent. W
Signature appetisers include aromatic minced lamb with betel leaf; kettyle beef salad with chilli and crisp basmati; and spiced sweet corn soup with masala corn kebab. Grills entice with clove-smoked salmon; fat chillies with spiced paneer; and bhaditraka – a lamb kebab inspired by the Manasollasa and written about by Somesvara in 1127AD. Mains range from tandoori king prawns with Bengali kedgeree; to roast lamb saddle, mint-onion sauce and pilau rice; and Rajasthani roast red deer with stir-fried mushrooms. Sides offer dishes such as stir-fried greens with cumin and garlic; masala mashed potato; and germinated moong bean salad; whilst biryanis include Keralan curried seafood; and Lucknow chicken. For those who can't resist something sweet, desserts include Indian banana tarte tatin with cinnamon ice cream; almond and pepper pannacotta with gingered dates; and spiced pistachio cake with long pepper ice cream.
Entered via an imposing covered courtyard created by the warehouses, the Cinnamon Kitchen benefits from an all-weather alfresco terrace, where the buzz of diners welcomes you to the restaurant.