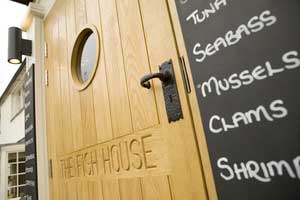 Award winning operator, David Barnard has realised a dream by opening something quite amazing in the Sussex countryside.
The man behind venues such as the iconic Crab at Chieveley and before that, the Crab & Lobster restaurant and Crab Manor hotel in Thirsk, has spent the last twelve months and in excess of £4m converting and shaping the Chilgrove White Horse in West Sussex into his latest masterpiece, The Fish House.
The Fish House is a restaurant, hotel and bar like no other; delivering a totally unique experience in the rolling Sussex countryside, close to Goodwood and just outside Chichester.
Having taken the original building back to its shell, the venue has been completely re-fitted and largely rebuilt, with fifteen luxury bedrooms added. The grounds have been extensively landscaped and include six large secluded hot tubs, each set in their own private pagoda, complete with flat screen TV and Champagne fridge. As if this wasn't enough, David has brought with him a first class line-up of staff, with head chef Alan Gleeson at the helm in the kitchen. The team will be focusing on producing stunning food, a blend of fine dining and masculine eating, using only the freshest ingredients. The elegant 40 cover restaurant features Italian chandeliers and hanging wall art by John Holt, though it's through the ultra atmospheric bar that guests will enter, with its show stopping crustacean counter, low ceilings and 300 year old French fireplace.
Commenting, Barnard said: 'The last eight months has not been without its share of challenges, though it has been thoroughly rewarding to witness the realisation of my vision for The Fish House. Surrounded by a fabulous team and a brigade of superb craftsman, we have succeeded in creating the most wonderful backdrop for what I truly believe will be one of life's memorable experiences – that's how proud I am of what we've done and are about to achieve here. The Fish House will be elegant indulgence, operating at the highest of standards."
The Fish House, High Street, Chilgrove, West Sussex, PO18 9HX