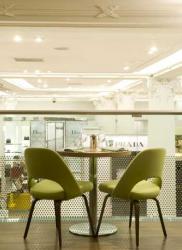 Mark Hix brings his Lyme Regis seafood restaurant Hix Oyster & Fish House to London's Selfridges in May for PROJECT OCEAN
For one month only, HIX Restaurant & Champagne bar will host the pop-up Hix Oyster & Fish House, Mark's restaurant in Lyme Regis. The venture coincides with Selfridges PROJECT OCEAN, a series of events, talks, in-store activity and installations aimed at bringing awareness to the problems of over-fishing in the world. Selfridges has teamed up with a host of environmental organizations including The Zoological Society of London (ZSL), the Marine Conservation Society and Greenpeace to help our oceans. PROJECT OCEAN will take place at Selfridges from 11th May to 12th June.
In addition, and as part of PROJECT OCEAN, Val Warner, Mitch Tonks and Mark Hix will host a sustainable fish supper on Wednesday 25th May at 7pm. Tickets are open to the public and cost £60 per person for a 3-course menu and half a bottle of wine.
Mark Hix says 'PROJECT OCEAN is a huge undertaking, it aims to highlight the plight of endangered fish, and so Selfridges has eliminated all endangered fish stocks across the food halls and restaurants. For us at HIX it's the perfect opportunity to show our commitment to sustainability and give Londoners a taste of our fish restaurant in Lyme Regis. The views from the restaurant might not be the same as Lyme Regis, but we'll be cooking the dishes that we do in Lyme, celebrating local producers and seasonal produce from the seashore. I might even put some seaside sounds and seagulls on the ipod. We'll add a bit of fishy drama to the event.'
Hix Oyster & Fish House opens on 12th May and reservation lines open on 3rd May.
The menu will feature Mark's signature style British cooking with an emphasis on South West seafood. Diners can enjoy whole Portland crab with mayonnaise, steamed rock mussels in Burow Hill Cider or Newlyn Hake with cockles and alexanders.