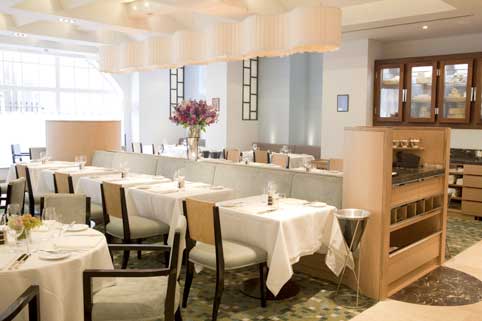 Located in the former Reuters building in Fleet Street, Lutyens is the latest project from Prescott and Conran Limited, the company behind the recentlyopened Boundary and Albion in Shoreditch. Lutyens includes a large bar on Fleet Street with a charcuterie counter, 130 seat restaurant, crustacea and sushi bar, members club and 4 private dining and meeting rooms.
David Burke is the chef. An alumnus of the original Bibendum kitchen and the first chef of Le Pont de la Tour, David combines simple French cooking with his own energetic Irish personality. A large helping of crustacea and oysters, several Simon Hopkinson recipes, plus a few other influences from David's time at Ballymaloe feature. Essentially, the menus unashamedly include renowned French recipes and a few Irish classics. It is also the intention for the menus to offer a range of ingredients and prices from a simple plate of charcuterie to Dover sole and slightly more involved dishes such as veal cordon bleu. When the season arrives, game birds will feature heavily, together with a few luxury indulgences such as truffles, when they are available. A small selection of sushi will also be included; something the owners have seen work very successfully alongside crustacea at the Mandarin Grill in Hong Kong, recently re-designed by Terence Conran.
Service and management is being led by Graham Williams, for many years the manager at Bibendum and more recently at Le Cafe Anglais. Andrew Connor, formerly of the Lanesborough and Le Pont de la Tour, is the head sommelier. The wine list runs to several hundred bins and ranges from French terroir style wines to renowned estates and vintages. Primarily old world focused, the list includes over 100 wines under £35, plus an extensive selection by the glass and pot Lyonnais. A growing collection of large format bottles and rare old Claret and Burgundy wines have also been stocked.
Terence Conran says; 'I have always admired David Burke's enthusiasm and the way he combines his Irish style with classic French cooking. Together with Graham's efficient and charming service, I think we have created a restaurant that might tempt a few journalists back to Fleet Street and get the bankers out of their bunkers and spending again. Maybe it's also a restaurant and bar that Pepys would have greatly enjoyed."
The restaurant is named after the buildings architect, Sir Edwin Lutyens,probably the most distinguished British architect of the first part of the 20thCentury. The site also happens to have been the birthplace of Samuel Pepys.
85 Fleet Street, adjacent to St Bride's Church