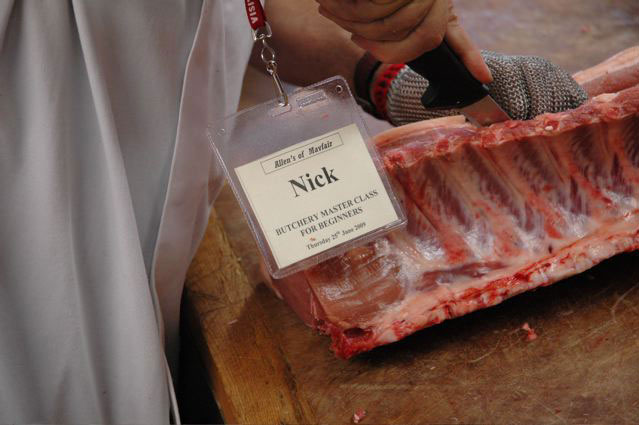 I'm wearing a lace metal glove on my left hand and thinking, 'Michael Jackson would die for one of these.' Forty-eight hours later he was indeed brown bread. Sorry Bubbles, I didn't mean it. Photos: Al Stuart
It is a rather nice glove, made from delicate steel that's as fine as a necklace and so light that I barely know I'm wearing it. I can feel through it perfectly though, which is the point. The other point is to not get the point; we're using knives so sharp that they cut through meat like laser beams and were it not for the glove I would literally be a two finger typist any second.
This is Allens butchers in Mayfair and we're gathered around a chopping block the size of a dinner table to learn about how to butcher meat. I already know how to bugger up fish, and make a mess of vegetables so this will complete my training. Except this is a skills lesson, an introduction to an art most of us don't practice anymore as we buy our meat ready portioned in supermarkets. It's a useful skill- a whole chicken, for example, properly taken apart will yield better portions and at less cost too.
Allens is definitely the place to do it. Since being rescued from a life serving just local restaurants it's been turned back into a shop again, one still blessed with its 1830's tiled and listed interior. The only modern touch is the discrete air-conditioning which is making the hanging pigs pirouette gently in the breeze and keeping us very comfortable on this swelteringly hot June day.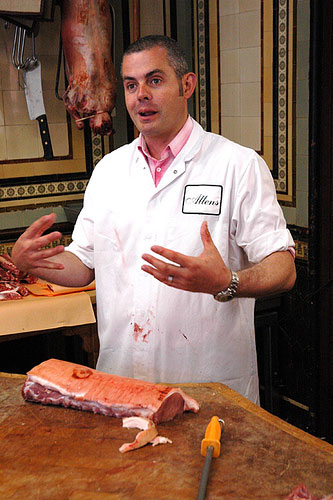 In charge of the course is David House, one of Allens new owners, a man most unlike the stereotype of butchers. He's not fat, he's lean, his white coat is crisp and clean and he is young and zippy. His knife flashes in the light and another perfect chicken breast comes away from a golden corn fed chicken. There is no waste, he has cut it perfectly. Now like the Generation Game it's our turn to try to copy what he makes look so easy. 'Nothing hard,' he says, 'just something to get your knife skills going.'
'When we bought this shop,' he explains as we struggle to separate breasts, wings, drumsticks, thighs and legs from bodies, 'we were passionate about bringing it back to life as general public butchers again, We were shocked to find that the previous owners had not used the shop at all. We don't have to run the shop ourselves really, we have a successful business supplying restaurants and clubs, but we want to do it and this butchery course is part of that, bringing back knowledge and skills and passing them on to people who care.'
By now, with personal help from David's staff who are all very kind and patient and adept at dodging knives waved about by budding butchers, we have our chicken disassembled into its component parts. It's a question of using the tip of the knife so that you can feel the bone and stick close to it so as to neither cut bits of bone off, nor leave excess meat behind. You also need razor sharp boning knives and knowing that it is all but impossible to cut your left hand through the glove is a great reassurance. The chicken parts are bagged up with our names on them and carted off the fridge.
'Now then, ' says David heaving a whole side of lamb on to the board, 'when a restaurant orders 100 to 200 chumps of lamb, a great dish, there's a lot of work in that. In our main catering supply business we may do a thousand chumps of lamb a night.'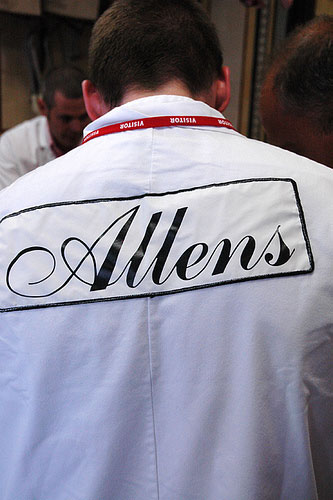 First, he carefully and deftly cuts away the lamb shoulder. 'This can be done by machines, he points out, 'but machines aren't as accurate. That is not an acceptable piece of meat for our customers. It's all about following specific lines with the knife. In the old days of course butchers were also surgeons, but a surgeon's pay isn't enough for me!'
'We also know all the provenance of our meat and when you buy from us here or from the website you will see exactly which farm the meat has come from. That's very important to us too'.
As he talks he removes the breast naming the parts as they come off and how they can best be cooked and how some parts will go to the kebab business and how others, once 'throw away parts', will now find a home in ethnic restaurants. 'It's all about knife skills, not strength or effort,' he stresses as he continues, 'and as you can see it's about keeping the work area tidy, most cuts come from knives left lying about not the ones being used'
We're given our lumps of lamb and we begin the process of getting two nice squared off chumps from them. It's hard to see where to cut but, with the help of our assistants, it soon becomes clear. It's obvious that practice would make perfect. It is immensely satisfying to see the chumps finally emerging pristine from the main meat, it seems the chumps wielding the knives are getting the idea.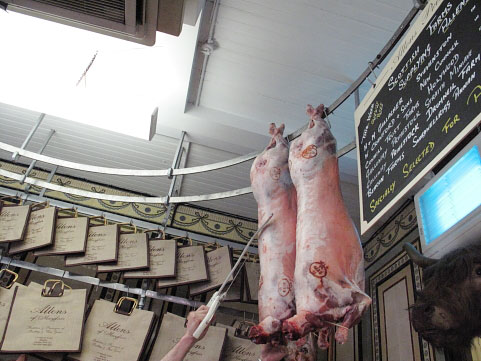 Our final task, after carefully creating lovely racks of lambs, the bones clean and white just as you would demand from your butcher, is the pork and to get a good piece of roasting pork is the biggest, literally, job of the lot. This involves some sawing and then some careful scoring of the fat, 'because the crackling is so gorgeous, but do not cut into the meat!' stresses David. We cut away the bones after, not before, because the meat is easier to handle while still held firm by the bone. The hacksaws seem crude but once again, it's a delicate job letting the saw do the work and not being forceful with it. It cuts easier that way, as we soon find out.
All that remains is to tie it up in that professional way you see in the best butchers. David is no fan of the elasticated stocking you so often see on pork. 'It's easier for machines to do, but do you want a machine preparing your meat?' In fact stringing the meat is one of the trickiest jobs we do, the knack is hard to acquire and no matter how many times I see it done, my fingers just don't seem to be able to do the clever twisting and knotting that seems second nature to the butchers at Allens. When they do it each string is at the same tightness and same spacing so creating a work of art, but by the time I get to the last string I can feel the body learning to do it. A few more and I think I will have it.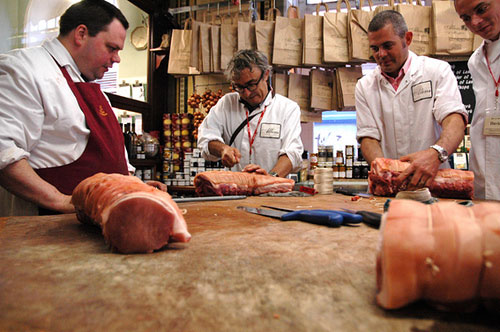 The lesson has lasted an hour and a half but seems to have flown by. It's been remarkably educational and an insight into a professional's life and skills. The presence in the class of a sous chef from a major restaurant shows that even they feel they can benefit from David's tuition.
If you're interested in being a better chef, or you simply want an enjoyable time learning and practicing some real craft skills in a traditional environment, then this course is a must. All the meat you prepare is packed for you to take home, which makes the cost of the course even more reasonable.
You can find out more details at Allens website