25-27 Heddon St,London, W1B
tel:020 7434 4040 | www.momoresto.com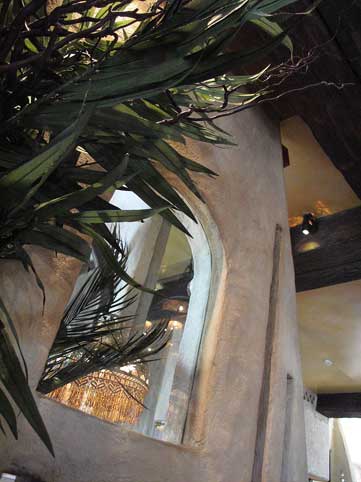 You can have a lot of fun wandering the back alleys of North African towns, as Andre Gide and dear old Oscar found out. Personally I have always loved how a simple door from a dusty lane can lead to a beautiful secret courtyard full of lush greenery and the cool tinkle of running water.
Momo, which since 1997 has been something of an institution in our very own London town, pulls the same trick. Noisy Regent Street is instantly left behind and you could be miles away. The wooden ceiling and the fretwork furniture must be imported as they have an irreproachable air of authenticity, whilst the way sunlight spills down into a far area of comfy chairs is really very attractive. The air is scented with sandalwood and the room's deep, rich colours beckon you to sprawl insouciantly among the cushions. In fact, you don't have much choice about that because the low level seating means you tend to go base over apex anyway.
No wonder then that when Momo first opened, and for a long while after, the trendies queued to get in. They've moved on now, but Momo is sticking to its shtick. There are other North African places in town, some blurring into Middle Eastern, but Momo keeps it pretty real with a proper North African menu. After some bad patches in the past few years there seems a definite change in both the attitude and the pricing, which can only be good.
We tried lunch and the set menu was brief, made briefer by the fact that the asparagus was off. Hardly surprising in July you might think. Staff promised that a new dish would replace it the next day. 'Putain et puis merde!' as Andre might say.
Annabel's Aubergines sounded too much like a line from a Carry On film to me, 'Nice melons, my Lady!' and so in the absence of asparagus Salt Cod brandade with citrus was landed instead. 'Citrus what?' you may ask, but we didn't. It was a bit salty, salt cod really needs a lot of pre-soaking, but not unpleasantly so and it was rich in garlic if slightly too loose textured. The presentation was appealing; a little castle of brandade moated with good olive oil and capped with pesto and fronds of rocket. Some crisped bread helped soak up the juices.
From the a la carte came a Harira vegetable soup that was just the job; a deep red colour with tenderly cooked fava beans bobbing cheerfully about, all swirled through with olive oil and packed with fresh coriander. Spicing was a toss up between delicate and not quite enough but chef knew how to season.
From the set lunch menu skewers of lamb with kosheri rice and, wonder of wonders, all de-skewered before service. This avoids the usual struggle, which always ends with a piece of lamb flying onto the floor, and also leads to a prettier plate. The kosheri rice – that's rice with lentils and fried onions – was surrounded by cubes of well-cooked medium rare lamb and puddled about with a freshly spiced sauce. Simple and good.
A la Carte chicken tagine was plate meltingly hot, but once it had cooled down to merely blistering it proved to be a well-made dish; quality on the bone chicken breast in saffron yellowed stock with preserved lemons, potatoes and some onions and olives. A bowl of fluffy cous cous on the side sopped up the stock and a pot of proper harissa, not the stuff from a tube, added fire.
They bring out a plate of pastries to tempt you, but the words Rum Baba are all I need. I know it won't be the bizarre but lovely creation I enjoyed as a kid, the nearest thing to that is an airline version, but this is still rather nice. Crepes Berberes with dates and almond ice cream is very good.
There's a nagging aura about Momo of the popularity tide having gone out and everyone waiting for it to come back in again, but with the Heddon Street area now finally free of cars and incessant road digging the whole square has a buzz about it once more and Momo is well placed to be back on the A list.