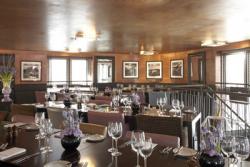 Big news for you chocolate fiends, legendary Chocolatier Pierre Hermé is set to open his very first London shop.
Products on offer from the man dubbed the 'Picasso of Pastry' will include his trademark macarons, Bonbons de chocolat and the delicious 'one bite' PH cubes. These tasty little morsels come in three varieties; hazelnut praline & chocolate, chocolate ganache and Corso which is a combination of olive oil, bits of black olives and chocolate.
If it's a cake you're after to satisfy your sweet needs, you'll be able to chose from five different flavours of pound cake including Cake Infinement Vanille with it's almond and vanilla combo and the Cake Isphan which has rose jelly cubes hidden inside every slice.
A real Aladdin's cave of the very finest sweet gourmet treats, the shop will open on Lowndes Street in the heart of Belgravia on the 1st September.