London's first all-vegan diner is opening its second veg-tastic place on Islington's Upper Street, next door to another first, its world-famous vegan butcher.
Opening today,  17th May, fans of Rudy's vegan American diner classics can enjoy meat-free burgers, giant seitan hot dogs and plant-based pastrami sandwiches.

There are also jackfruit ribz, seitan hot dogs and pulled porc plus starters and sides including Mac n Cheeze; Mozzarella Sticks and Cajun Chick'n Popcorn.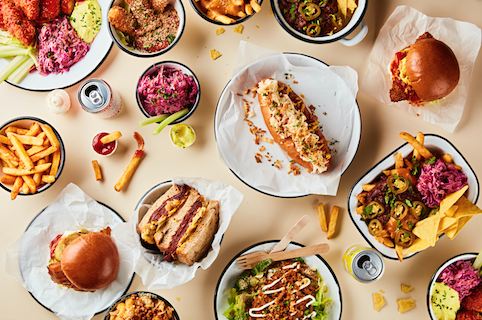 The Rudy's Islington menu is packed with veganised versions of American diner classics such as the gut-busting Ultimate burger with soya mince; the Destructor chick'n burger with baycon, cheeze, grilled, onions, smoky BBQ sauce, slaw, dill pickles, lettuce, and the diner's signature Rubenz sandwich stacked high with 'pastrami' between thick cut slices of freshly baked, homemade rye.
Dairy-free freakshakes like the Unicorn, a vanilla shake topped with bubble gum syrup and candies. Cocktails on tap include Aperol Spirtz, mojito and Gin Garden on tap from Liberation Cocktails plus there are vegan beers and wines.
Exit via the adjoining and dedicated vegan butcher, filled with plant-based products, mock meats and vegan staples such as perfectly spiced pastrami, meatballs or baycon.
Rudy's Islington will be open for deliveries and takeaway across North London postcodes, or order a plant-based picnic basket to pick up on your way to the park.

Rudy's Vegan Diner
206 Upper Street, London, N1 1RQ
Rudy's Vegan Butcher
56 Islington Park St, Islington, N1 1PX
Order online from rudysvegan.com