First meal inside means a trip out to a local restaurant that's been on the radar for ages. And it's worth it.

May 17th and the day is still young as we hoof it up Streatham Hill to SW16 Bar & Kitchen for, joy of joys, a meal not seasoned with car fumes.

Back in my childhood, SW16 Bar & Kitchen was a very rough pub under a different name. It was infamous for a massive punch up between off duty police that got so bad the uniforms from the local station had to arrive in force to break it up.

Of course now it's all very different, this end of Streatham is much more upmarket today and SW16 Bar & Kitchen has made the place smart and chic with high and low tables and a bistro feel. It's got that natural look that says 'have a drink or have a meal, we don't mind'.

It also has front windows that open onto the pavement for sunny lunches and Sunday brunches, and it welcomes people to shop in its deli or use its workspace. A proper local hub that's open from breakfast until 2.a.m.

Part of the same group that includes Exhibit in leafy Balham, it has a menu with a strong Italian accent from very experienced chef Antonio Raspone but in a modern way. No oversized pepper grinders here.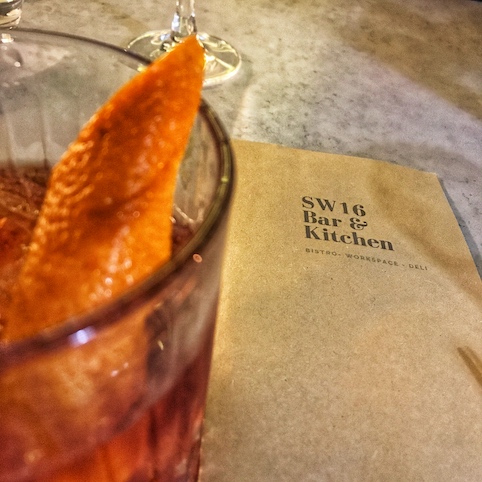 My full on Negroni is just what I craved, I never make cocktails properly at home. This is perfect and I do love a crystal clear ice cube, a little touch that says a lot about the bar's standards.
A short menu is on offer, but full of winners. We pick the home made focaccia along with some marinated anchovies to kick off.



Fine focaccia; slightly crispy on top, dusted with crunchy sea salt and not oily or sloppy as some can be, although I didn't notice any of the advertised rosemary.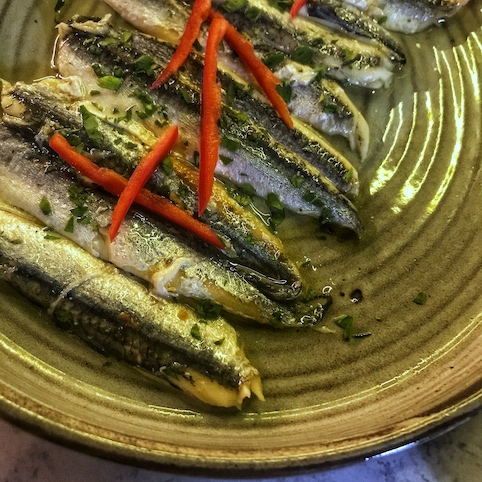 It goes well with the cheerfully plump anchovies which, for those who don't know, are very different indeed to those rather harsh fillets used on pizzas.
These are smooth, mild and with a texture like the best prawn. They have been decorated with fresh red chilli, and if I have one complaint it would be that this chilli had no heat.


Worth mentioning by the way are the cutlery and crockery. Knives and forks of a pewter colour, rather industrial and attractive, and crockery of the 'made in Cornwall kind' – not a criticism – quirkily characterful and soft on the eye.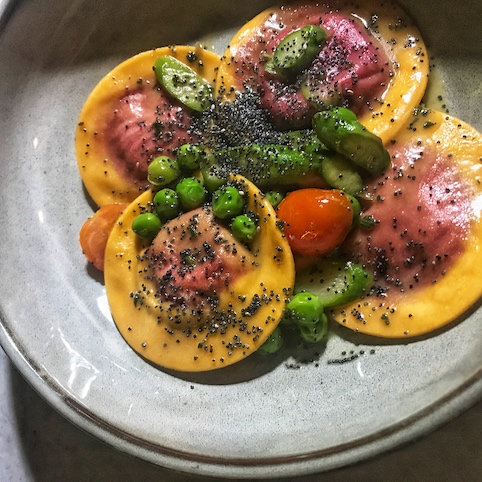 We share a plate of the beetroot and burrata ravioli, fresh peas, asparagus, butter, sage and poppy seed sauce. It's very buttery and we need a few napkins to mop our chins.
The pasta is homemade and the filling looks and tastes good, although the outer ring of the pasta is slightly undercooked, as are the peas, although not badly. The crunch of the asparagus contrasts well with the wobbly ravioli. We fought for the last flying saucer.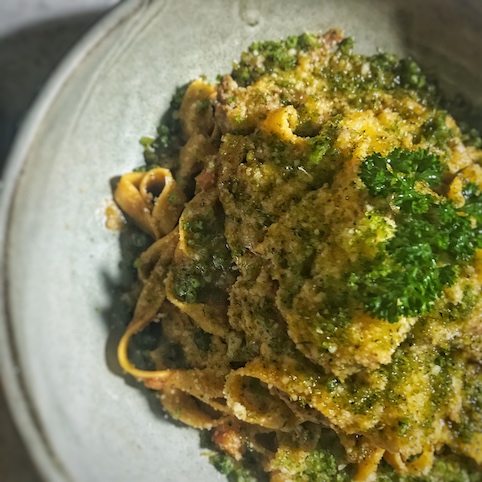 My main up next is something I have been after for months – a slow cooked ragu of lamb with tagliatelle. Sure I have made a few spag bols in lockdown, who hasn't, but it's not the same.
This has the deep flavour only obtained with lots of time on the stove and is made better by the addition of pecorino cheese and herby, crispy, breadcrumbs and pleasantly bitter curly parsley.
The home made pasta has been correctly finished in the sauce, so there's been proper absorption of all the flavours. Even though I am slightly full from the ravioli, I happily clear my plate.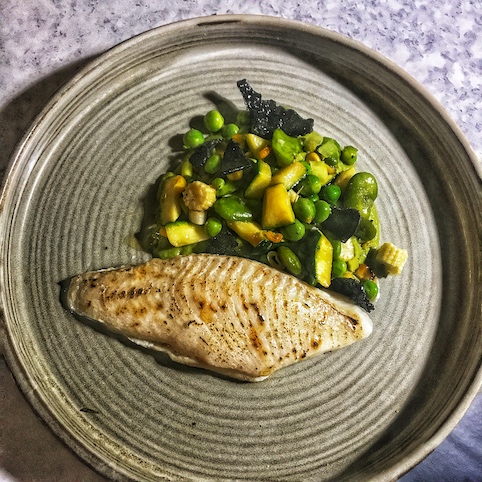 P has gone for something rather more exotic; grilled plaice, broccoli cream, spring vegetables, black rice crackers. This would be quite at home in any 'posh' restaurant, and like all the dishes looks very good on the plate.
It's a winner for her, a decent portion of fish well cooked – stigmata marked by the grill but still moist and tender. She likes the way the broccoli has been treated; although broccoli is an excellent vegetable it never looks elegant served whole. Creaming it is far better and lets her 'butter' each fish forkful.

The veg are squeaky fresh and the crackers make for an interesting and lively texture contrast. A surprising dish and colourful, worth detouring from pasta for,

There's plenty of colour in a side of burrata and heritage tomato salad, grilled peach and black olives. The peaches weren't noticeably grilled, but their sweetness still played well with the acidity of the eye-catching tomatoes, while the burrata was creamily excellent.

We end with a shared tiramisu, these are never quite as boozy as I would like. That's because I had my tiramisu taste buds fixed forever by my mother's creations which, to be honest, were more of a cocktail than a dessert.

There's a thoughtful drinks list and wine selection that covers more bases than you might expect, including an orange wine. Our 2018 Aconcagua Costa Pinot Noir, Montes Limited Selection, Chile was a find – light but complex and a working match with all the dishes and we finished it with some regret.

Conclusion? As a local I would support any independent restaurant (but a fried chicken shop) on my patch, but there's no need to be partisan when it comes to SW16 Bar & Kitchen.

It delivers all you could want from a local restaurant and does it with a cheery smile, even if for now those smiles remain behind masks.
5 Streatham High Road SW16 1EF
www.sw16barandkitchen.com
hello@sw16barandkitchen.com
Tel: 0203 8753057

Hours
Monday to Wednesday 10am to 11pm
Thursday 10am to 12am
Friday 10am to 2am
Saturday 10am to 2am
Sunday 10am to 8pm