Yes insects, but hang on don't leave, they're packed with protein, surprisingly tasty and possibly one of the most sustainable ingredients on the planet

The team at Wahaca has decided that it's high time to reintroduce some insect options to its menu of, vibrant Mexican street food. The new specials, compliment the restaurant group's new menu – launched to coincide with the full reopening of indoor hospitality.
Wahaca's new Cricket salsa is a richly flavoured and spiced pipian, (a term to describe any class of mole made with a base of pumpkin seeds).

Ground crickets are combined with pumpkin seeds and a Mexican blend of guajillo, arbol and jalapeno chillies to create a salsa that's spicy-hot but with plenty of other flavours going on too.

For a limited time, visitors to Wahaca can try a taster of the cricket salsa on the house, served with a portion of tortilla chips to scoop up the sustainable scoff.

Veggie diners (or anyone not up for ingesting insects) can have their tacos topped with a citrusy habanero mayo instead. True to Wahaca's sustainable principles, the dish will only remain on the menu for the six week asparagus season, so get this one while it's fresh.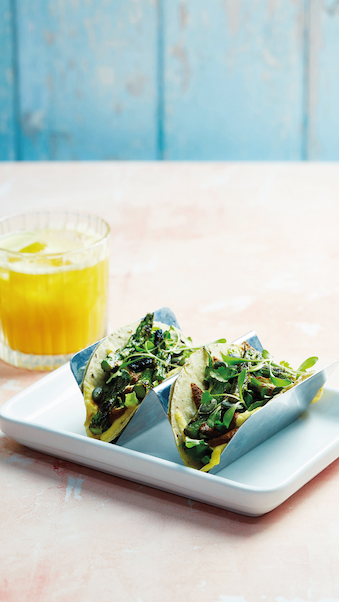 Asparagus season is here of course and this month sees the spring vegetable appear on Wahaca's menu for the first time in a dish that's packed with seasonal goodness.
The new Chargrilled asparagus tacos (£6.25) combine tender and slightly caramelised stems finished with a sprinkling of toasted pumpkin seeds and the new cricket salsa.
For drinks, the new Summer Spritz (£8.25) is a mix of Aperol, prosecco and grapefruit with an unmistakably Mexican splash of 100% pure agave tequila, and is available now alongside the new specials.
Wahaca's co-founder Thomasina Miers said: "Crickets are a brilliantly sustainable way to add protein to our diets and are eaten in Mexico as bar snacks, on guacamole, in salsas and even coated in chocolate. We hope that our guests will be up for trying them if they haven't had the pleasure before!"