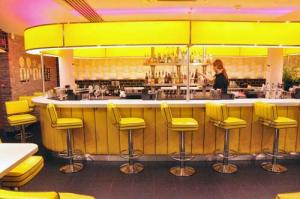 'And it was all yellow'- Profile Soho is a retro bar • diner • café the colour of a Colman's Mustard pot – yellow against black gloss. This slice of New York nostalgia fuses American charm with modern design for an all-day dining experience.
Positioned on Wardour Street and with a new menu for 2010, this 95-cover restaurant serves stateside classics. From all-day breakfasts to dishes such as meatloaf, mac 'n' cheese and Mexican chilli dogs.
Open from 11am to 11pm, the setting, food and collection of cocktails including alcoholic milkshakes, makes Profile Soho something a bit diferent in Soho
Food
Slow roasted pork belly on mash; calves liver with bacon, mushrooms and melted onions; mac'n'cheese made with Cheddar, Fontina, Smoked Gouda and broccoli; and a 'Major Meatloaf' on country apple stuffing and buttered sweetcorn.
Burgers such as 'the big cheese' featuring prime ribeye steak, melted soft cheese, lettuce and tomato in a sesame seed bun; or spiced lamb with houmous and tomato relish plus NY 100% beef hot dogs such as the spicy Mexican with coarse-cut chilli .
Salads of crispy calamari; seared duck; dolphin-friendly tuna and California cobb along with a range of Caesars including poached egg; grilled chicken; hanger steak; or salmon.
Breakfast is available at any time of the day, French toast with maple syrup, winter berries and cinnamon sit alongside scrambled eggs with smoked salmon, crème fraiche and spring onions on sour dough; and buttermilk pancakes with maple syrup and bacon or berries and bananas.
Desserts across the pond are unashamedly sweet and gooey, from cookies and cream with vanilla, chocolate, honeycomb and white choc chip; to chewy fudge and chocolate walnut brownies; or baked cheesecake with chocolate and strawberries.
Drinks
During the day Profile Soho offers illy coffee; Damman Frères tea; or fresh juice. In the evening come cocktails from old timers such as the cosmopolitan; margarita; and caipirinha to exclusive Absolut creations. Drawing on Absolut's range of flavoured vodkas.
Another Profile signature is the Mud Slide and Banoffee. These alcoholic milkshakes see vanilla ice-cream blended with vodka, Baileys and Kaluha; or banana liqueur and butterscotch schnapps, to create rich dessert drinks.
Profile Soho
84-86 Wardour Street, London W1F 0TQ
Tel: 020 7734 3444