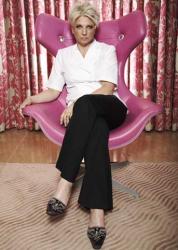 This spring, food writer and TV chef Silvena Rowe Brings her own unique style of Eastern Mediterranean cooking to London's five-star Mayfair hotel. The new restaurant which will be situated on the ground floor of the hotel and named Quince at the May Fair, will feature a menu that draws on Rowes wealth of experience in Eastern Mediterranean cuisine and will be inspired by everything from ancient Ottoman banquets to modern-day Syrian spice markets.
Through frequent travel, Rowe has garnered an encyclopedic knowledge of the culinary traditions of the region which has lead to her very own unique style. Modern, bold and elegant her food importantly remains true to its heritage and also her Turkish roots.
Reflecting the flavours, colours and vibrancy of Rowe's cuisine, a range of cocktails have also been developed based on the subtleties of the herbs, spices, fruits and flora used throughout the dishes.
Quince will be open daily serving food from 12:30pm to 10:30pm. Lunch is available Monday-Friday from 12:30-3:00pm and 1:00-4:00pm on Saturday and Sunday. Dinner is served from 6:00-10:30pm all week. Afternoon tea will be offered each day from 2:00 until 5:00.