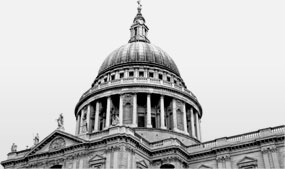 Conceived by Harbour & Jones, this unique 48-cover dining room, with its own dedicated entrance, can be found alongside a new café in St Paul's Cathedral's crypt. Open for lunch and afternoon tea, the menus romp through the British Isles providing up-to-date food created from carefully considered ingredients courtesy of head chef Candice Webber. With a strong emphasis on provenance and seasonality, handpicked specialist suppliers such as the Fulberg family in Chalk Farm and Covent Garden's Kirbys are abundant throughout the offering.
First courses, including asparagus and poached Gressingham duck egg; or pressed rabbit with carrot relish, lead on to mains of Trigger Farm Barnsley chop with homemade mint jelly and jersey royals; or Portobello mushroom Wellington with spinach. Puddings that an empire could be built on include lemon posset with Pimm's berries and thyme flower shortbread; and Habour & Jones' Regent's Park honey ice and gingerbread sandwich, all served with an exciting collection of British bins alongside global varieties.
Designed by Wells Mackereth working alongside St Paul's Cathedral Surveyor to the Fabric Martin Stancliffe, the restaurant's clean lines combine with natural materials, clever lighting and highlights of sage to create a fresh and welcoming destination within the vaulted space.
Ideal for City business lunches, friendly get-togethers or visitors to the capital
The Restaurant at St Paul's is a monument to British food.
St Paul's Cathedral, St Paul's Churchyard, London EC4M 8AD