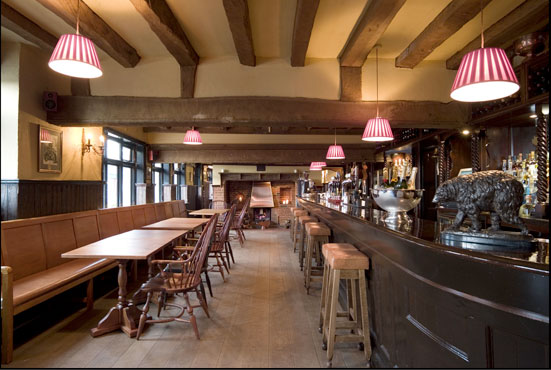 This Spring, The Old Bear in Cobham has reopened after an extensive refurbishment, offering the ultimate cosy country pub in the surroundings of one of Surrey's most attractive towns. The Old Bear is the second project from the team behind the hugely successful Islington pub, The Albion. Richard Turner and Simon Anderson have created another truly authentic venue serving delicious food in a space whose design is a modern take on the classic English pub. At a time when more and more traditional pubs are closing on a weekly basis, The Old Bear is a response to the need for the pub to evolve, appealing to families and women with an impressive food and drink offering and welcoming interior.
Richard Turner has created two menus; one for the bar and one for the dining areas and both are full of warming classics guaranteed to please all tastes. The bar menu changes daily according to seasonality and prices start at £4. Dishes include Potted Duck and Toast, Roast Beef Bone Marrow with Capers, Mash and Gravy, and Half a Dozen Oysters.
The dining menu offers three courses of delectable dishes and starters include a truly retro-style Prawn Cocktail with Apple, Celery and Romaine Lettuce, Salad of Young Goat's Cheese and Vegetables with Lemon Truffle Dressing and Hot Scottish Cockles with Addlestones Cider, Smoked Bacon and Thyme. Mains include Steamed Wild Rabbit and Bacon Pudding with Secretts Carrots and Chervil, Dexter Beef Wellington, and Whole Roast Lemon Sole with Sprouting Broccoli and Shrimp Butter. Mains are reasonably priced between £10 and £18. Indulgent desserts include Treacle Tart with Milk Ice Cream, Chocolate Sundae and Honey Parfait with Caramelised Apple Granita.
The Old Bear also boasts an extensive drinks and wine lists stretching far beyond the remit of a typical country pub. It is one of the first venues to introduce an Enomatic Wine Preserving System, allowing customers to order single glasses of fine wines, which they might not be able to afford by the bottle. Fine wines will change on a weekly basis and there will also be a great selection of beers and champagne on offer, as well as some original and entertaining cocktails, including an Apple Crumble Martini and Choco-Mint-Tini.
The Old Bear's interior, created by celebrated designer Shaun Clarkson, inspires a feeling of warmth from the moment you walk through the door. The natural wooden beams, oak floor and caramel coloured walls all give a true sense of the countryside, as do the roaring fires with copper hoods at each end of the bar and in the main dining area. The venue is divided into five main areas: the main bar, two dining areas, lounge and garden and can accommodate over 90 covers inside and a further 90 outside. The bar is seven metres of gleaming wood sporting a bronze bear statue and lit by Regency-style red lamps suspended from the ceiling. A long wooden pew with comfortable leather cushions, wooden chairs and leather-topped bar stools can seat 30 covers and antique bear-themed prints are hung throughout.
The main dining area is a cosy room situated behind the larger bar area seating 34. It has two sets of French doors looking out onto the pub's garden, and parquet floor. Reds, coppers and browns have been used throughout and antique Punch prints adorn the walls, giving a timeless feel. The second dining area is at the other end of the bar and is accessed through the lounge, a comfortable area with plush sofas, armchairs and low-slung bras-topped tables. The second dining room accommodates 28 covers and also shares the snug feel of the main dining room, and is adorned with original botanical prints from the eighteenth century. At the rear of the pub lies the expansive garden which is bordered by flowerbeds which by summer will be transformed into a lush area of herbs, vegetables and fruit trees.
The Albion opened in early 2007 and has fast become a firm Islington favourite, with its stunning Irish-English menu and exquisite garden. Talented Head Chef Liam Kirwan, formerly of The Gun and Sand's End has recently taken over the kitchen from Richard Turner and his food has met with widespread acclaim.