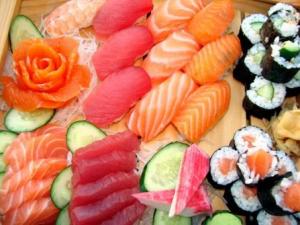 Watatsumi is a brand new high end Japanese restaurant opening in London at the end of 2010.
Watatsumi's location will be close by to Trafalgar Square and the aim of the menu is to show a side of Japanese cuisine beyond sushi and sashimi. Whilst traditional Japanese ingredients will go into the dishes, innovative presentation and bold new recipes will help take the restaurant in a new direction.
After 3 years at Miyama in Mayfair, an apprenticeship under chef Kikuchi, a role as head sushi chef at Zuma, a stint at Dubai's legendary Burj al Arb and most recently a return to London to launch Nozomi, Otto Teeranggoon will be the executive chef at Watatsumi.
The menu has been designed to showcase a wide range of traditional and modern Japanese dishes; 'little bites' like edamame beans either simply steamed or fried and tossed with chilli salt, deep-fried baby squid with shichimi and shishito peppers head up the menu.
At the sushi bar diners will see the classic pieces of sashimi and nigiri sushi Londoners expect, as well as a range of tartars like wagyu beef with chilli ponzu, topped with black caviar. Other menu highlights look likely to be chef Otto's signature trio of oysters, tuna or salmon 'martinis' and red snapper salads.
General Manager at the restaurant is Ginger Zerbetto, the man who from 1996-2000 managed Nobu restaurants in London, New York, Tokyo and Milan. Zerbetto is coming to Watatsumi fresh from his role in the management team at Buddha Bar London.
Watatsumi are encouraging first time diners to try out their Omakase or tasting menu at £65 which will be full of Otto's personal recommendations of the best seasonal dishes available.
Watatsumi, The Club Quarters Hotel, 7 Northumberland Avenue, London WC2N 5BY 0207 036 8522