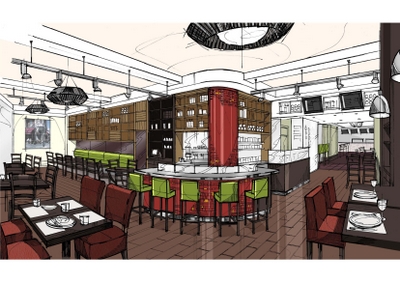 The newest addition to the Spaghetti House family will feature a high seating counter at the entrance and an impressive temperature-controlled wine display. Diners at Westfeld Spaghetti House will enjoy the aromatic open kitchen with a flame fired pizza oven seen as 'revolutionary' some 50 years ago at the original Goodge Street branch.
A striking combination of red leather banquettes, coupled with iconic Italian images offset by dark wood display cabinets, Spaghetti House Westfield London mixes comfortable familiarity with refreshing urban style. Ceramic textures and light wood floor finishes also compliment the booth seating, dining tables and poser tables. The design is influenced by Stefana Lavarini, the company's marketing director and daughter of Simone Lavarini, co-founder of Spaghetti House. The menu will showcase modern Italian dishes, classics and home-made favourites. The trademark pasta dishes and stone-baked pizzas will sit alongside new regional specialities inspired chefs' recent workshop in Le Marche region of central Italy with chef Franco Taruschio, from the famed Walnut Tree restaurant.
Spaghetti House already operates 10 restaurants across Central London. Spaghetti House Westfield London will be open seven days a week from 11 am until late and will seat 130 people in the main restaurant plus 38 on the Terrace. An average three-course meal with wine will be £20-£25. Parties and events for up to 160 people will be accommodated.
Tel: 020 7395 0390 or visit online at www.spaghettihouse.co.uk. Underground Stations: Shepherd's Bush, White City, Wood Lane. Overground: Shepherd's Bush. Car: Westfield valet parking and taxi lounge.