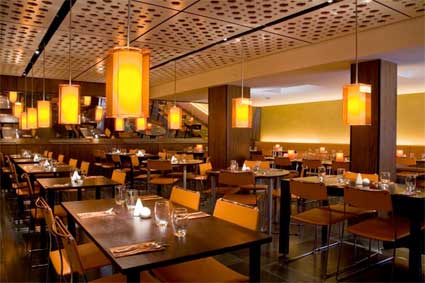 This place off the beaten track won't break the bank.
Restaurant recessionistas rejoice – newly opened Indian hotspot Zeen provides a stylish environment in which to enjoy Indian cuisine with a modern twist, or to simply pop in for a classy – and very reasonably priced – cocktail.
Located on edgy Drummond St, known for its authentic Indian restaurants, Zeen puts a spin on the classics as well as serving up some great new recipes to suit Londoner's sophisticated cosmopolitan palates.
By evening, popular dishes such as Korma, Roganjosh and Biryani, and more unusual dishes such as Soft Shell Crabs, Tandoori Pomfret and Squid, are served individually instead of in the middle of the table, meaning the experience is kept simple and uncluttered. Many traditional meals have been given a makeover and a popular new favourite is the Zeen Platter – a take on the traditional Thali – consisting of tasters of the best dishes on the menu.
Zeen is the creation of Zeenat Harnal, daughter of Sir Gulam Noon, the Indian entrepreneur famous for bringing Indian cuisine to British supermarkets and she had a specific vision for delivering a fresh approach to Indian cuisine.
'In this restaurant space I have developed a modern Indian dining experience that suits the penny-savvy. The area around Drummond Street is frequented by a wide range of people, so I wanted Zeen to cater for all tastes and budgets. We pride ourselves on the quality of our food, the environment our guests enjoy, and the service that complements them both."
The real surprise at Zeen is the prices. The special lunch buffet is a steal at £6.75 for all you can eat. There is also an Oriental buffet lunch offered twice a week. In the evening, three courses with sides from the a la carte menu will only set you back between £15 and £20 and if you get there before February 20, 2009 you'll also benefit from an extra 15% discount.
Zeen also caters for those who just want a drink which is hard to find in this neck of the woods. There is a full bar where visitors can treat themselves to a selection of wines, champagne and cocktails. Wine can be bought for under £10 with many cocktails sliding in under £4.
130 Drummond Street, NW1 2PA