As a mid-week, post-work, summer dining destination I might ordinarily proffer up 101 reasons why not to head Pimlico way for a good night out.
My name is not Fi, Plum or Allegra and I date neither a Guy, Henry or Rupes. When we greet people they get one, maybe two kisses, not three. If my fella deigns to wear a shirt, he wears it with the collar down, not keeping his ears warm. He rejects pastel colours. And raspberry cords.
Neither of us enjoy riding the sweaty and fitful Circle or District lines to Sloane Square. We earn good but not silly money and therefore balk slightly at paying £6 for a small glass of rosé or £50 per head for a Wednesday night nosh.
We like antiques but window shopping here makes us feel inadequate and I will never do my weekly shop at Daylesford Organics, which again makes me feel ever so slightly inferior to the bloke who is standing next to us with bulging D.O. bags outside The Orange pub (nos 37-39 Pimlico Road), as we nurse our over-priced, pre dinner drinks.
So it was with surprise and great delight I found myself having a jolly old time half an hour later in 101 Pimlico Road, a place that has quickly become a favourite neighbourhood hang-out for our co-diners in the six months since it opened. A fair number of these were of a certain age, I admit (and no doubt had a pair of R-cords in the wardrobe at home) but the atmosphere was buzzy and friendly, something I personally need in a restaurant I plan to make a regular fixture.
Of course I also look for good food, with genuine pedigree, at fair prices, that excites me even if I see that menu twice or more in any given month. On this front 101 Pimlico Road delivers and I took great pleasure umming and ahhing over the starters and main courses, to the point of asking our Zoe Saldana look-a-like waitress for her opinion on which one she would choose.
I had read several good reviews of the 'rustling' spicy deep fried whitebait and chap needed no persuading to order it up. A small metal bucket filled with meaty little morsels arrived with a dunker of lemon aioli on the side. In his words they were 'orgasmic'. My confit duck leg came shredded with a salad of watermelon, baby gem and cashew nuts and a distinct but not over-powering Asian style dressing. It was really tasty but overshadowed by the starry whitebait
Main courses include the eye-popping, stomach-pleasing 44 day aged Black Angus Côte de Boeuf, supplied by O'Shea's of Knightsbridge, served with bone marrow, parsley and caper salad and unlimited French fries at £39.5pp. We did not order this as it was not my birthday, but just reading it out loud made me happy.
With little encouragement, chap gladly obliged me by ordering the next best thing – the 44 day aged rib-eye with fries, green salad and a Béarnaise sauce on the side. It came beautifully cooked, so much so that when a nearby diner sent his back to the chef, we could only assume he must be some kind of moron who had ordered it medium-rare to impress his bird but really meant to say well-done.
I went for the roast cod with chorizo gnocchi, lemon mashed butter beans, garlic, chilli and parsley. It was a hard call between that and the char grilled wild halibut, with sautéed pots, braised kohlrabi and samphire but the sunny Med flavours of the cod was what I yearned for that particular sunny evening.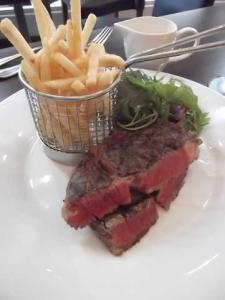 When it came, the lemony beans had magically morphed into chopped spring greens, at chef's discretion, which was the sole disappointment of the evening. Our nice Na'vi waitress described the unscripted switch as 'a disaster', which was overstating it a little but I appreciated her concern. Saying that, I do believe that what's written on a menu should be made available to you. If we ordered a pint of bitter in a bar and got a lager top instead, we'd pipe up.
A side order of aubergine fritters was at first glance labelled stingy, with just four slices stuffed into another little metal basket, but we were silenced by the perfectly crisp tempura batter and tender, white, grease-free discs within. Four turned out to be plenty.
Desserts were a delicate and delicious, sophisticated spin on jelly and ice cream for me, made with fresh strawberries and Champagne, and a Valrhona white chocolate and mango cheesecake with raspberries on the side for him. I found this a tad too salty for my taste but it was polished off without complaint by my enthusiastic co-reviewer.
Suffice to say if I lived in this neck of the woods and earned a bit more money (what am I saying? If I lived here and my daddy earned a bit more money) I'd come here again. The room is big enough to seat a crowd but small enough to feel intimate and the service is friendly, something you don't necessarily expect down these parts. The manageress also made a point of apologising for the non-beans, which made me warm to her and her restaurant even more.
So, not quite 101 but ample reasoning, I hope, to persuade you down to Pimlico. And, for the benefit of my chap, there's only one, quite obvious reason why there's a black and white spotted pot dog on the counter.