A Room In Leith, 1a Dock Place,Edinburgh EH6 6LU www.aroomin.co.uk
This was quite an odd dining experience. Even though they knew I was
coming I wondered whether they realised they were being reviewed, especially when they delivered the wrong puddings and there was a slight hesitation about changing them for the right ones. And when we were given some local colour about a bloke coming to fit a new door'today of all days'.  There's friendly staff and there's too much information. Oh, and who repeatedly addresses a couple of women lunching together as'ladies'? Made me feel like I was in a Little Britain sketch! I'll be Florence and my mate was Emily…
Well, so far so grumpy. Maybe I should start again. A Room In Leith is by the water in the Shore area of Leith, in a building that was a little draughty the day we arrived, with a nippy September breeze at our heels and a cloudy squall on the horizon.  The interior itself plays on the waterside with a nautical theme but for me it was more ferry terminus than The Onedin Line. Maybe the long summer had lulled them into a false sense of security but a bit of warmth wouldn't have gone amiss.
After plumping for a bottle of house white we settled into our starters of smoked halibut on celeriac remoulade with pickled cherry tomatoes and coriander cress and tomato, roasted aubergine and butterbean stew with Inverloch goats cheese and brioche croutons. The translucent halibut lay delicately on a bed of crunchy celeriac'slaw and the coriander cress made it a classy bite though I did have to do a mirror check for mustard seeds after. Not one for a first date. The stew was like an upmarket ratatouille, and the tomato sauce was rich but light, as befits an opening dish. The only complaint from Emily was that the croutons were a bit soggy.
Hoisting our sails, we caught a breeze and set a course for our mains, me indulging in the baked wild mushroom, pea and spinach leaf bridie and Emily diving into grilled fillets of hake and Firth of Forth mackerel. The bridie was all sweetness and light with a butternut squash puree, grilled asparagus and a red wine reduction. Am I the only person in the world to find asparagus a little dull? It did look pretty though, lying across my plate against the orange of the puree and I couldn't fault the tastes and textures. Although the hake and mackerel made a good, crumblingly moist show of themselves, the sauce needed more capers and while the fish made a lovely, light lunch dish it needed a little more bite before Emily could declare herself completely hooked.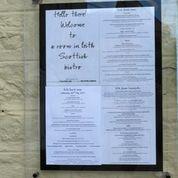 The mains were accompanied by a small raft of the usual veggie suspects – carrots, broccoli, potatoes and interestingly, some mange touts. They were nicely al dente but were left drifting as we became totally caught up in what was under our noses and a good old catch up blether.
And so to pudding and the mix up with the menus. Despite ordering dark chocolate steamed pudding with honeycomb ice cream, and iced cherry and stem ginger parfait with cherry compote from the lunch menu, we were served with two dishes impersonating our selection that seemed to have deserted from the dinner menu. As the food was placed in front of us we were told that our waitress was'guessing as to who had ordered what' and she then became flustered as we stared at our puds trying to match ingredients to menu descriptions.
Had she known me better she'd have suspected that coming between me and a steamed pudding was likely to lead to a keel hauling, so I handed back my dessert but Emily' decided to hang on to her Blacketyside farm strawberries and raspberries with clotted cream ice cream and crushed honeycomb. It wasn't the mistake that got me, but the suggestion that we'd have to make do. Maybe our waitress was worrying about the man and the door?
Anyway, the steamed pudding arrived and was suitably mollifying in a nursery food kind of way, and the fruit and crushed honeycomb delivered a nostalgic kick that made up for it being the sweet imposter it was.
Coffee and fudge rounded off our luncheon voyage which could have been all plain sailing, but was actually a bit choppy. The food was beautifully cooked, if a little bland in places and the ingredients were fresh and tasty, but the service can make or break a place and in this case we felt A Room In had missed the boat.  At the bottom of the menu, a helpful line says, "if you have any special dietary requirements… please let us know". Yep. The right food please.