Unit G6, Harbour Yard , Chelsea Harbour,  Chelsea SW10 0XD www.amani-restaurants.co.uk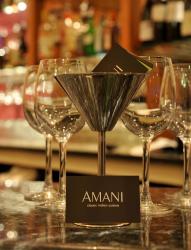 That's Amani, not Armani before you think I've suddenly become aware of fashion. As well as this newly opened place in Chelsea, there are two other Amanis in Sanderstead and Epsom.
The Sanderstead one I already knew; I grew up around that part of the world and see friends and family pretty often. My memory – of an Indian restaurant light years ahead of the local pack in style and substance  – was enough to make me want to try this Chelsea Harbour outlet and see if the food still stood out when transposed to more expensive surroundings.
Well it does, but first the downside, the location. Getting into Chelsea Harbour is not easy, it's a bit of a walk from the nearest tube and parking is chargeable inside the complex.
We left the car on Lots Road for free because I am very mean and walked the rest of the way. Finding Amani is not easy either. Around the rather bleak buildings the wind whistles with a lonesome air and there are few people around to ask the way. Luckily a doorman at the hotel was kind enough to give directions.
Inside the mall-like interior, of what was once a kind of shopping centre when I last visited but is now basically an office block, it is echoingly empty with just the sound of a man pushing a floor cleaner about in a desultory fashion.
Amani's front door is ajar, which is just as well as I might otherwise have assumed the place was closed – the almost unsignposted exterior is glass but there is nothing to see inside because the back of the bar blocks your vision.
Amani has it's back to you because the other end of the restaurant is the business end with a balcony that looks out over the boats and yachts of Chelsea Harbourovich itself. On a sunny evening with the doors open I'm sure one could almost be in St Tropez. Well I imagine one could. I've never been there myself.
The interior is plush in a rather anonymous international hotel kind of way, you wouldn't necessarily know what kind of food you were going to get if you found yourself in there by surprise. Modern European would perhaps be your best guess.
But the food here is very good, chef Rajeev Kumar has done time under Vivek Singh of Cinnamon Club and Kitchen fame and that means this is not going to be sloppy curries or Tikka Masala. The sharing platter is large  – Garlic and coriander infused lamb chops, carefully spiced and properly pink inside, vie to be my Facebook favourites with tellicherry peppers shrimp and salmon cakes with masala crab meat. The chops and the trio of lime infused chicken tikka, mint and garlic tikka, reshmi kebabs were spot on for degree of internal doneness, but would have benefitted from more searing on the outside for flavour and texture. I can't be the only person who likes the burny bits.
Seared fillet of red mullet in Goan sauce with roasted vegetables was really terrific, the sauce respectful of the delicately flavoured fish that had been cooked and added at the last minute to preserve its integrity. Sweet sugary roasted carrots and rich aubergine chunks bobbed about in a coconut milk sauce that had all the classic sour spiciness that the Goans love and I do too, while the chilli heat was pinprick subtle. A nudge in the ribs rather than a poke.
P had smoked saddle of lamb, saffron masala mashed potatoes and masala keema spinach, which was quite frankly a mistake. Not because of the food in itself but because there was such a lot of it. Who would have thought a lamb's saddle would be quite so big? John Wayne could have ridden this one.
She gamely ploughed through just over half before throwing in the towel, but declared it'excellent, if only I hadn't eaten so much starter'.  She then, like me, began to seriously tuck into the pilau rice which was gloriously good, a dish worth enjoying on its own and not just as a side, the crispy curry leaves were particularly good, someone should market them as a snack.
The chickpeas cooked with dry mango and garlic, the smaller Indian chick peas not the fluffy large'garbanzo' kind, were almost certainly cooked from dried so as to have a firmer texture than tinned. The mango was dried mango powder, which added a sour, almost verjus flavour that seeped into dals very well. We mopped up with a selection of breads, slippery, oily ones and puffed up nans. We couldn't manage dessert, often the case I'm afraid when I eat Asian, but we finished a decently priced bottle of red and wandered out into air fresh with the smell of the Thames.
You can't fault the cooking at Amani, it really is very good, but the location is not ideal except for the people who live in Chelsea harbour. But that's now, come summer and warm light nights and a lot of people may be tempted to stroll down to the riverside and if they do they'll find a superior Indian straight outa Surrey