Aqua Kyoto, 30 Argyll Street, London, W1F 7EB Tel: 020 7478 0540 www.aqua.com.hk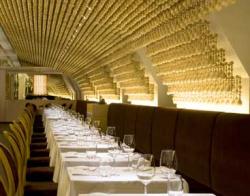 When I first heard of Aqua I thought it was an odd combination, bringing together two quite different cuisines, Japanese and Spanish, in one restaurant and of course anyone else would be forgiven for thinking the same. However, there is some synergy in these two styles of cuisine, the Japanese yakitori style of smaller sharing dishes echoes to some degree Spanish tapas, so there is some logic in their co-location.
Aqua, Kyoto and Nueva occupy the top floor of the former Dickins and Jones department store. With its entrance diagonally opposite The London Palladium, in Argyll Street, its modest frontage could easily be missed – well, we did initially, but as you walk into the ground floor entrance lobby you begin to get a feel for size of this place. The lobby alone is as big as some London restaurants I have eaten in, but serves simply as a place to arrive, be greeted and then whizzed up to the restaurant in a non-stopping lift. You arrive in a further lobby where you are greeted and shown to your table. We were curious about the two restaurants so were shown each dining space and the separate bars that serve them. Each is stylish, clearly a lot of careful design work has gone into creating these two distinct areas. Each restaurant also has its own roof terrace, which boast great views across London from this fifth floor space.
On to the meal, we were seated at our table and indulged in a glass of champagne each, well it seemed right in these lavish surroundings; we also had a dish of edamame to nibble on while we sipped. Our waiter was very helpful; having given us a brief introduction to the concept he left us to peruse the menu saying that he would return to answer any questions and help us in choosing our meal. He returned and his advice was invaluable, suggesting we consider some of the dishes that he felt were among the restaurant's best. These included some of those we had our eyes on so we went with the flow.
First came some spinach rolls in a toasted sesame sauce, this was a very fresh clean tasting dish, despite the fairly thick sesame and peanut sauce that the lightly cooked spinach was dressed in at the table, by our waiter. Then we moved on to the seared beef tataki with onion sauce, these were tender quarter inch thick slices of medium rare fillet that were sat atop some lightly cooked onion, a little wasabi on the top and some separate onion sauce on the side, these were lovely, both with and without the sauce. They were a little difficult to eat with chopsticks, as they are a big mouthful, but definitely worth the effort. We moved on to the dashi marinated halibut with chilli and onion, these cubes of fish, we understand, are seared then marinated for some time which continues their 'cooking', they had great flavour and a flaky texture, so somewhat easier to break up to eat, they were very good.
Some mixed vegetable tempura came next, aubergine, sweet potato, squash and more in light and very crispy batter that contrasted well with the soft contents that it encased. The king crab tempura with crab miso was divine, these spring roll style tempura contained what must be the sweetest crab I have tasted, excellent meat that was bursting with flavour and was beautifully supported by its accompaniments. The saiko miso black cod, one of the restaurant's signature dishes, was amazingly good, it looked much lighter than black cod that I have had elsewhere, the white of the flesh showing through the caramelisation which had a great intensity of flavour but this didn't detract from the flavour of the fish.
The beef tenderloin tapan yaki with Japanese mustard sauce were lovely tender chunks of meat, supported beautifully by the sauce and the twice cooked crispy pork belly with langoustines and yuzu pepper was excellent, the meat tender and the crackling nicely crisp, a lovely dish.
We were quite full, even though we didn't do as suggested and choose at least two items from each section of the menu, but of course we went for dessert. Well, you have to. We chose the banana cake with banana ice cream, which was as you might imagine a big banana hit in the mouth, the mini doughnuts, a new dish on their menu, were lovely sugar sprinkled balls of dough sat on top of a thick citrusy cream that held its shape. Both were great creations that made an excellent finale to the meal.
With our meal we had a very good bottle of New Zealand Pinot Noire, recommended by the sommelier, which wasn't cheap but went extremely well with the different dishes we had ordered; wines at the restaurant range upwards from about £18. This is a very sociable way of eating which allows parties of two or more to sample a wide range of different dishes. It is certainly a place worth bearing in mind for that special occasion and whilst some dishes are expensive, like the whole lobster and the wagyu beef, many are priced around the £10 mark and less. There is also a lunchtime set menu that looks to be incredibly good value.
Aqua Kyoto is an excellent restaurant, the surroundings are plush, bordering on opulent and service there is second to none. We had a brilliant evening there both from the perspective of the ambiance and the excellent food. I have no hesitation in saying you should go along and try it.