68 – 70 Clapham High Street, London, SW4 7UL, aquum.co.uk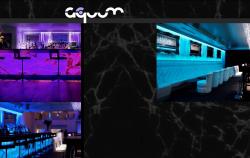 The future's orange. Well, that's what I thought when I walked into Aquum, Clapham Common. The clientele of twenty somethings in their red skinny jeans and sequin jackets all radiated that biscuit fake-tan glow.
With its white leather sofas scattered with Moet & Chandon cushions, gilded intricately-framed mirrors, three glitter balls and a shimmering diamante curtain, this bar-cum-restaurant is attempting glamour. But, with no thanks to the view of Tesco and Nando out the window, it's actually screaming out TOWIE.
I'm half-expecting the bar staff to whip up a 'reem' cocktail with a Del Boy style umbrella and slab of pineapple on the side or for the girls next to me at the bar to start comparing vajazzles.
So why's a club that every Saturday is flanked by bouncers that look like bulldogs and pumps out house music, producing a Thai menu?
I'm sceptical. It's an odd pairing, which I'm told is purely for economic reasons. Clapham already serves up Brazilian, Italian, Indian, burgers and pub grub so there was a gap in the market for Thai cuisine.
The management's done its best to reconcile the two, tarting up the place with vases of orchids and a silver Buddha, but underneath all the fakery it's still smacks of a club in drag – trying too hard to be a restaurant and not pulling it off.
On the cocktail list there's an option of 'cocktails for six' (read fishbowls) which doesn't help the restaurant's quest for authenticity. The Oriental, vanilla vodka and lychee, which tasted like a grown-up cream soda and the Clapham Girl, a combination of gin, honey and strawberries, were knock-yer-socks-off strong. Perfect if you want to get tanked up for a night out – less so for a relaxing meal.
Still, I was hopeful the food would be more authentic than the décor. Aquum's teamed up with Amaranth a family-run Thai restaurant in Earlsfield, south-west London, to create their traditional South-East Asian menu, and claim all their ingredients are sourced from their own farms in Thailand.
We began with spicy prawn crackers that were delicately flavoured and looked like giant curling peach rose petals then moved onto vegetable and soft-shell crab tempura.
The sweet potato, aubergine and not-so-Thai asparagus were encased in light, melt-on-your tongue golden batter and served with a chilli dipping sauce.
I'm not particularly squeamish but the crab tempura featuring every part of the crab – shell, legs, the works – did disconcertingly look like a battered spider.
It was worth persevering though as the seasoning wasn't overpowering, letting the soft, slightly bitter crabmeat speak for itself and it was paired well with a zing of wasabi.
We were just getting into the food when disco lights flashed across the swathes of white fabric adorning the walls. From the harried expression on the barman's face it was an accident but it was another reminder that we weren't in a sedate, upmarket restaurant but a Footballers Wives style gaff.
Once again, the food was Aquum's saving grace. A Kokonut Kiss (corr), a pearly-white concoction of coconut rum and lime juice, tasted like a Bounty in a glass and the house rosé was light and fruity.
My vegetarian friend was disappointed about the lack of options on the menu so the waitress suggested a vegetarian Pad Thai. It was nothing special, assembled from peppers, carrots, onions, beanshoots and slippery, nutty noodles, but well-flavoured with chilli and galangal and served with a separate dish of crushed peanuts.
I opted for Moo Prik King. Consisting of two-inch chunks of stir-fried pork, green beans, red peppers and a Thai round aubergine cooked in red curry paste, it was authentic. The flavours were subtle – garlic, chilli, galangal, lemongrass and kaffir lime leaves – and buzzed around my mouth like lovers.
Paired with a side dish of coconut rice sliced through with lemon grass, topped with a smattering of candied peel and served wrapped in a banana leaf, it was the runaway winner of the night.
Surprisingly, the 'authentic' food at Aquum was on a par with Fulham's Blue Elephant, my favourite Thai restaurant in London.
Stuffed like a pot-bellied Buddhas, the dessert menu wasn't imaginative (a fresh fruit platter, a trio of sorbets or ice-cream) but we managed to find room for the sorbets (mango, ginger and lychee) and the chocolate, vanilla, and green tea ice-cream. The silky-smooth sorbet had punchy flavours and the ice-cream was refreshing and good quality. No artificial, sugary slop here.
As the chilled-out club music turned into lively beats and the bar filled up, it felt strange to be dining there, rather like having a cream tea at a rave.
The atmosphere at Aquum jars against what the restaurant's trying to achieve but the food is authentic and flavoursome and at around £8 for a main and £9 for a cocktail it's reasonably priced.
If you want a tasty Thai before a night out, Aquum's not a bad option but if you want to fit in don't forget to slather on the fake tan.