In a topsy-turvy London restaurant world where being able to succesfully grill a beef burger earns you more plaudits than being able to knock out a decent béchamel sauce, what price old-skool skills?
Arbutus was feted when it opened in 2006. Critics camped out under the tables, bloggers blew the doors off with their flashguns. No one had a bad word for the place and the winning team of chef Anthony Demetre and front of house charmer Will Smith went on to open Wild Honey and Les Deux Salons, the former a bit more expensive while the latter more price sensitive.
Cue wipe dissolve and caption up : 'September 2011. Lunch time 1 p.m.' Arbutus is a bit quiet but that's not unusual these days, what with the economy in the U-bend and Tony Blair holding all our currency reserves in his current account. The space has had a freshen-up cosmetically with fancy new tables and a lick of paint, but Will is still firmly at the front desk and Anthony is down in the engine room.
If you're looking for novelty, to be the first to tweet or to blog, Arbutus won't excite you. The squid and mackerel 'burger', parsley, razor clams and sea purslane is the same dish that was on the menu in 2006 and it's still delicious. The mackerel is fresh and subtle, the squid al dente and the razor clam chopped to remove its scary tongue appearance is buttery and beautiful.
My slow cooked crisp pig's head, mustard mayonnaise, with crisp salad has also been on the menu for years and why not? The head meat pressed into a mould and then decanted is slippery, fatty and packed with porcine flavor. The salad combines thinly sliced cornichons, apple and radish to perfectly counter the fat and the mustard mayonnaise has just enough heat. It's instinctively good cooking.
I like rabbit but you don't see Thumper on the menu all that much in London. Rather like Pigs' Trotters, which they also serve at Arbutus, as Pieds et paquets – lambs' tripe parcels and trotters (Marseille style) – rabbit doesn't always go down too well with the younger diner who can get a bit squeamish if the meat is too cuddly or not minced up. I love rabbit myself, we should all keep rabbits in our back gardens and kill them regularly. They eat all the kitchen veg scraps and we eat them all. The symmetry is perfect.
So is the dish; drum-tight pancetta wraps cylinders of two types of rabbit meat that have been smartly oven roasted, a braised spring onion is draped languidly on the plate, there is a thin jus that is packed full with flavor. It's so good that I eat it slowly, alternating with dollopy spoonfulls of the cottage pie that's been made from the rabbit shoulder and topped with good old mash. Comfort food, I hear you sneer? Yes and I am very comfortable with it thanks, this is muscular gastronomy and it's working out well.
J's Belly of veal was a winner too, he particularly liked the reduced jus. Just as in the rabbit dish the art ot creating a good 'gravy' is an ancient one and not acquired overnight or by purchasing a machine. It's key to this kind of Bistro-ish cooking and makes all the difference to a dish, lifting it to greater heights without being itself showy.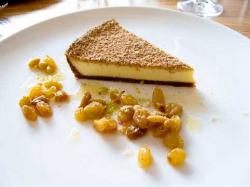 And finally a custard tart that was so good we made small cooing noises as we ate it. Airlily light and fluffy it threatened to float away, its micro thin base only just managing to tether it to the plate. It was eggy and excellent, very fine patisserie indeed.
Wines at Arbutus are still offered by the 250 ml carafe, making it easy to match wine with food and not be left thirsty. The best bit about Arbutus though, is you're not left feeling under-fed or ripped off either.
Unpretentious, not chasing trends, no obvious tattoos on the staff and food cooked classically well, Arbutus is the kind of old-skool that can teach the new kids a lesson.