'Eating doesn't get Greek-er than this!', as John Torode and Gregg Wallace might proclaim. But does the restaurant live up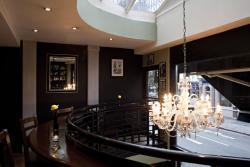 to its self-inflicted hyperbole? Having spent a childhood's-worth of holidays clattering around on donkeys, picking fresh almonds and flitting round olive groves, I'm a soppy old nostalgic already poised for persuasion. As long as it gets sufficiently Greek, that'll do me.
The ugly Earls Court Rd vista certainly isn't'Greek', nor the nicely modern green-and-black interior littered with hazy black-and-white family photos. The dining bar that curves round the staircase on the first floor could be in an ouzeria, though. The music's also authentic- translating the lyrical refrain with my pidgin language skills causes me to shamefully blurt'I love you' to my companion.
I do though, a bit, when he allows me to bagsy the lamb in rich lemon sauce for my main, graciously accepting his lesser lot with the classic moussaka that I also fancy trying. Owner Dimitri is not so gracious in acceptance of the request for the staple dish, however, and, following a quick confab with Chef, fiercely decrees my companion'will have the seabass in filo.' We demurely acquiesce.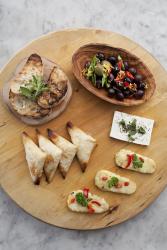 Before that, though, the clean acidity of a chilled PDO Manteneia sets us up for the chef's meze- preceded by a merry march of tiny courgettes with flowers stuffed, battered and fried; prawns in a tomato, feta and ouzo sauce and miniature roundels of lahmacun. Sorry, lahmacun? As Turkish as it gets? Dimitri tells us one of the chefs is from Turkey- score one for international relations.
For the meek of appetite, these starters would be ample. But we are meek neither in appetite nor our expressions of gustatory glee. Prawns in that haunting anise-flavoured sauce tear in the delightfully meaty manner of the barely-cooked. And that creamy, cheesy courgette flower filling is dribbling down my chin in an undignified manner for which I'm wholly unapologetic.
A pail of mixed pitta hits the deck- a pillowy, tender, Greek-made response to the usual cardboard-y banality. We spy a raft-like wooden board headed for the family party across the room… Except it's not. This edible juggernaut is headed our way. Best tuck in before they realise the mistake- swooping through taramasalata, houmous and tzatziki, spitting stones from plump Kalamata olives…
Too late. Dimitri's tableside. But not to rumble us for nabbing anothers' feast, simply to wish us'kali orexi'. We'll certainly need that'good appetite' to deal with this lot. There's cheesy- fat hunks of halloumi, sliced feta, and spicy tyrokafteri-topped aubergines; meaty- grilled, snappy pork loukanika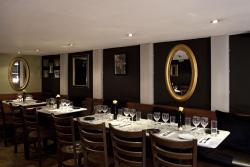 sausages; fishy- crisp-tender calamari; and even pie-y- exemplary wedges of verdant spanakopita.
And then, lest we forget, there's our mains to contend with- although when they're this good, viewing them as a chore would be churlish. My lamb-and-mash is luscious, in a sort of 'heart-attack-imminent' way, more so once drizzled with the mustard-and-oil dressing designated for the fish- which, lemon-stuffed, in its crisp pastry enclosure, eats like a particularly superior chippy tea.
Despite it being the first Sunday evening of the year, the place has filled up much like our distended bellies. Unlike our capacious stomachs, though, the restaurant can't squeeze more in. We manage to munch more pitta- sweetly nutty wholemeal this time; get to grips with grilled veggies; and polish off pud- unctuous yogurt with honey and walnuts, and wodges of soothing, syrupy galaktoboureko.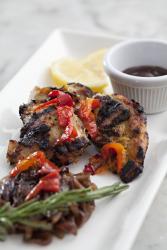 And, in the Greek manner, Dimitri is as delighted with our troughing as we are, even offering to bring a few more untried dishes. Sadly though, in a thoroughly un-Greek manner, we have to jump on the tube and head home- and are also absolutely bleedin' stuffed. We'll be back, though, when the Spring menu makes its debut and our appetites return. See you in about six weeks' time, then.