Heddon Street, London W1B 4BS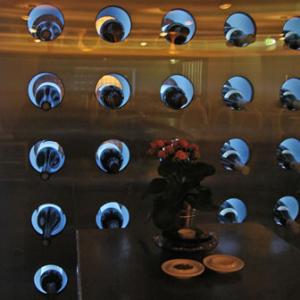 To say that you went to a restaurant not expecting great things is to beg the question, 'well why go at all then?' Fair point. The critical game isn't all about choosing to test drive Ferraris though, it's about going where average incomes might eat; the Ford Focuses of dining if you like – they do the job, they get you from soup to nuts, they just don't impress you with their performance or make women loosen their clothing.
So it's good when somewhere suddenly surprises and actually delivers more than expected. Aubaine's location, close to tourist land, made me suspect I'd get French food with more 'oh, oh dear than 'ooh la la' but actually it's not bad at all.
A nice corner location helps with outdoor seating and no cars to choke you in summer, although the door that wasn't a door had me perplexed. Why block an entrance with a table that can't be seen from the outside? I was pushing on it for ages before I realised it was a no go. Once inside through the real door you can smell garlic, which is good, but you can't see much in the gloom. I like a romantic atmosphere but I also like to be able to read the menu without shining my mobile onto it. Actually it wasn't the level of light that was the problem but the kind of light. Dimmer switches work by turning the bulb on and off very rapidly; when you dim you actually make the light stay 'off' longer each second. This produces a different effect than simply using lower voltage lights and I find it unpleasant.
Anyway, you're not here for an OU lecture on electrics so what about the restaurant? Well it's odd when the waitress asks you if you want wine and when you reply 'yes' she says 'what kind?' We expressed an interest in 'Red' and I was invited to inspect a row of bottles on a shelf right behind me. This I couldn't do without imitating Lynda Blair in The Exorcist and doing a full 360 with my head. So the wife picked one. It's a novel idea, but I think I still prefer seeing a wine list.
Very good bread and Beurre Echire classy butter took our minds off that oddity and the menu had a roll call of classic French Brasserie food to concentrate on with a twice-daily changing set menu, featuring two to three options per course. A starter of Tuna Nicoise used quality tuna – tinned, bien sur but there's nothing wrong with good tinned tuna and the menu made no apology, albeit calling it 'preserved'. What impressed were the boiled eggs. Many a restaurant would have boiled them to bullets earlier in the day and then got them out when needed. Aubaine's chef had clearly boiled them to order and so they still had a deliciously slightly runny centre to mix with the salad. Little things like that suggest a kitchen with ambition to be better than the rest.
Salad of smoked duck's breast with walnuts had a well-balanced vinaigrette and was perfectly competent if unexciting. I'd have liked to have seen some pan-fried gizzard in there too, but I can see how that might frighten the American tourists a bit.
Fillet of sea bream on a bed of cherry tomatoes, potatoes and beans was really rather good. The fish had perfectly seared crispy skin and the flavours had melded and trickled down to be absorbed by the spuds. Very tasty indeed and exactly what I think Braz food should be – quite gutsy, lively and satisfying. A slightly heavy hand with the salt in the kitchen was unfortunate but didn't bother me until I found myself in my own kitchen at 3 a.m.desperately necking down a pint of water.
Steak and frites is something every French restaurant should get right or go home. Here a decent bit of entrecote (fillet is for fairies) had the all important fat for flavour and was done 'a point' as asked. Cook this undervalued cut past pink and you ruin it. The frites were mixed – some lovely and crunchy while others, when held up for inspection, detumesced rather too quickly. I never see the point of Bearnaise sauce , this was properly tarragoned and all that, but I like steak to be simply itself. All round a good plateful though and certainly nothing you'd complain about.
A decent, sharp, lemon tart finished me off and Aubaine left the right impression. It's a place that wants to fit local office/tourist needs and it does it well and with the extra bit of effort that's all too often lacking in the area.