Barbican Lounge, Level 1, The Barbican Centre www.barbican.org.uk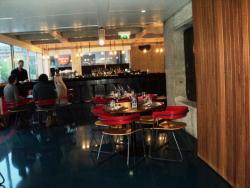 The concrete jungle that is the Barbican achieved Grade II listed status back in 2001 as 'a site of special architectural interest for its scale, cohesion and the ambition of the project'. And it has to be said, although the concrete is looking rather weather worn, a bit grubby and cracked in places, this is an impressive estate with some very nice attractive features. I'd be happy to have a flat there. At its core is the Arts centre which needs little explanation, other, perhaps than saying that apart from the usual arty things and facilities it's here on level 1 that you'll find the Barbican Lounge.
The Barbican Lounge is a relatively new restaurant, the space having been completely renovated, retaining a 60's/70's style (yeah baby!), it opened for business late last year. The styling of the restaurant has been kept minimalist, so much so there is a slight up market canteen type feel to it. Decor of the era that the Barbican was built has been replicated well in its furniture and fittings and it feels like you have stepped back in time, some four decades. Outside there is a great terrace that overlooks the huge man-made lake that forms a central feature of the complex, but we were told that this has to be cleared by 9pm so as to avoid disturbing the residents.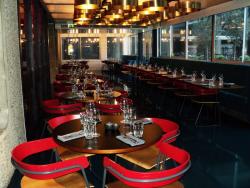 The Barbican Lounge menu is anything but 60's/70's era, they have gone for tapas style eating and there's a choice of two starter like sharing boards, and 12 mains which come as small plates with five available as large servings. There are a further five dessert dishes.
We started with the Carnivore sharing board, together with a selection of breads, this was loaded with slices of some good flavoured prosciutto, mild salami and nicely challenging chorizo, supported by a dish of herb and garlic marinated olives, and a scattering of sun-blushed cherry tomatoes. This was an ideal if comfortingly substantial sharing starter.
We were told that, typical of tapas style food, the dishes would arrive as they were ready rather than any specified order. We had established that the sharing board would come first, so we were happy with this. The smoked haddock and chive fishcakes with a caper mayonnaise was the first of the mains dishes to arrive, these were nicely crisp on the outside, well flavoured by the fish and given the slightest onion hint by the chive, the ratio of potato to fish was just right – the mayonnaise was a good accompaniment to them. Then on to the pressed rabbit, duck confit, foie gras and ham hock terrine served with a golden sultana puree and pickled beetroot. This was two hearty chunks of terrine, the composite meats held together by a good meaty jelly, the whole dish working well together; the savoury terrine was balanced by the sweetness of the beetroot and the sultana puree. I wasn't sure that the tiger prawn cooked in shallot and fennel butter, finished with a splash of Pernod would work, but we ordered it because it sounded interesting and indeed it was. The prawns were lovely, juicily meaty and they were complimented well by the mildly aniseed cooking juices, it does work, believe me. Finally we saved the heavier dish to last, the braised ox cheek, bourguignon garnish and celeriac puree, which was a delightfully rich dish, the full flavoured slow cooked cheeks in a lovely sauce sat on top of the creamiest celeriac puree, it was really good.
Although quite full we, of course went on to dessert, we were just going to share one, but two caught our eye and naturally we succumbed. The Amedie No. 9 chocolate tart and the marinated cherry and almond tart with vanilla ice cream soon arrived. Two more different desserts would be hard to imagine, the marinated cherry and almond was very light and had great delicate nuances of the constituent flavours, whereas the Amedie chocolate tart was decadently rich and seriously chocolaty, individually and together they were great ways to bring the meal to a close
Because we were having a mixture of starters and mains dishes, both fish and meat, we decided to go for a rose wine, the Argento Malbec, which was so deeply rose it was almost red, but had some good fruit and big character, standing up well to all the dishes. It was a good choice. Service at the Barbican Lounge was efficient and friendly. Despite its minimalist quality the Barbican Lounge has a good atmosphere, we enjoyed our meal there very much, it felt very relaxed and comfortable. So if you are looking for an interesting place to eat, that's like stepping back a few decades the Barbican Lounge would be a great place to head for. Heck, if you just want some great food served in a tapas style while enjoying a relaxed atmosphere, its a great place to visit.