Nik visits a slightly forgotten part of London, to find palm trees, great service and the all important great food.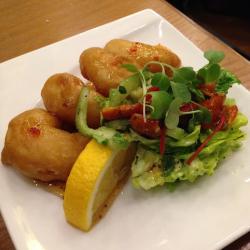 What a strange place the Barbican Centre is. Amazing, but strange. An imagined future of the world, dreamt up in the 1960s when concrete was king and we were only a decade away from wearing coloured spandex suits that indicated our social standing.
By now, an English George Jetson should be moving in and parking his hover car on the roof; instead, it's a quietly eerie place, populated by an ageing residence, with foot pedal operated toilet sinks.
Don't get me wrong, it's fantastic. Where else in London can you find palm trees growing out of brickwork and a twenty foot high rooftop greenhouse of tropical plants. It also hosts great exhibitions, plays, music, film, and (of course) has some decent restaurants to boot.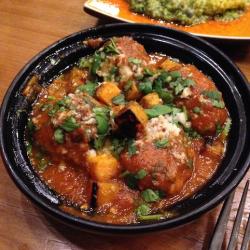 Yes, we're there! Although, on the night we nearly weren't. A cock-up on the booking time (my fault) and a delay meeting my guest (my fault) resulted in us arriving at 8.15, which (it turns out) is 15 minutes before the kitchen closes.
Be warned, anybody looking for a late night eating option – this ain't it.
The staff did their darndest to get us fed though. No finger pointing, wild accusations or moaning. They walked a bit faster and paced us through our order. Being hungry, I wasn't complaining.
I always find tapas (for that is what they serve at the Barbican Lounge) hard to comment on, especially when it's coming thick and fast. Plate after plate after plate blurs my tiny mind. I can't think, I can't remember, I just eat.
Luckily, I've had a few of these dishes before. Rosemary and salty bread, smothered in a garlic tapenade gets the stomach lined and the juices flowing (I hate that expression, but can't think of another). King prawns in a crisp light batter, drizzled with chili sauce. Rice balls in a green pesto. Succulent lamb tagine. Lightly charred chicken skewers. And, my personal favourite, the paella, with shreds of chicken and tiny squid rings, finished off with a few tiny tentacles balanced on top.
So there we have it, a list of food as long as your arm and far tastier. A bit lazy of me I suppose, but it leaves me space to focus on both the other aspects that complete a dining experience and the puddings.
The Barbican Lounge is surprisingly professional. I say that, as I've never seen it that busy (another plus point), which doesn't tender to lend itself to highly competent staff (how would they pay them?), yet these guys are polite, courteous and notable by the absence of fuss they make.
It's not a pricey restaurant either – although I've never paid – with sharing dishes starting at £4.50 and topping £8.00. They're not stingy with the portion sizes either – and who doesn't like a semi-circular toilet with a foot operated sink tap?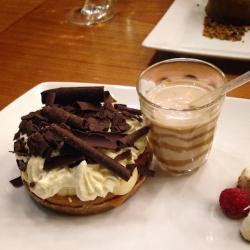 Oh, I did say I'd mention the puddings didn't I. Well, while the mains are designed for many to be ordered and shared between two, the puddings are at the other end of the scale. Order one, split it between two and you'll still have a couple of spoonfuls left for breakfast.
Mine was a banoffee pie. A half-donut solid base of biscuit that could snap the head of an Ikea spoon, covered in a rich goo, slices of fresh banana, lashings of cream and rolls of chocolate shavings. If you're not salivating at that, what about the shot of chocolate and toffee sauce on the side? Seriously, this isn't a pudding, it's a deliciously dangerous challenge.
The Barbican maybe a forgotten part of London, but it's one that should be firmly on the map. Tiny entrances and swirling dust cloud from CrossRail might put you off, but push through, give the Barbican Lounge a try and experience modern cuisine served up in the future of yesterday. They can feel free to use that line, my fee is 10%.
Need more feeding?