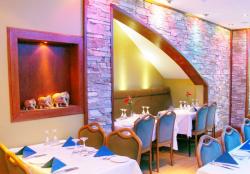 A warm welcome, a friendly atmosphere and attentive service go a long way in my book and the Bay of Bengal has a good helping of all three. The place was buzzing with a brisk turnaround of customers and the many who popped their heads round the door to find the restaurant full were quickly advised as to when a table would be free and most came back. A neat and efficient system.
The restaurant has been recently refurbished and it works in a refreshingly, unobtrusive, mainstream curry house, good value for money kind of way. Rather many establishments appear to have gone for the minimal, designer look in recent times with lots of expensively-stylish crockery (and hiked up their prices in the process!)
The menu is big and brimming with not only the classics (Kurma, Bhuna, Madras, Dhansak, Balti etc) but also a selection of Panaeng and Gaen Kee Wan Thai dishes. We were more than happy to follow the manager's recommendation of a selection of classic starters and a few of the chef's specialities for mains. In the meantime we feasted on a couple of light, crispy poppadoms with the usual accompaniments. The cooling, lightly spiced Raitha was particularly notable.
The platter of starters included some very moreish, succulent Chicken Koftas in a richly aromatic tomato sauce, Cauliflower Pakoras which had just the right bite to them, sweet Onion Bhajees, crisply delicious Potato Cakes and both Chicken and Lamb Tikka Massallam which had been cooked to perfection in the chef's pride and joy, the tandoori oven. The chef, who has been creating his Indian and Thai delights in the Bay of Bengal kitchen for 15 years made regular appearances throughout the evening, introducing himself to diners and explaining the intricacies and flavours of his dishes. Nice touch.
When the main dishes arrived, the table was flooded with colour and the aromas were enticing. The deep red Chicken Jaalfaraizi and the mixed Vegetable Curry with loads of freshly chopped herbs offered both. We agreed that the chef's speciality Lamb Bhuna was the star of the show. The secret mix of heady spices remains a secret and rightly so. It was a triumph with cubes of tender, pink lamb that the fork simply glided through and the sauce was medium hot, intense and generous. Definitely worth a repeat performance. I'm not a huge fan of a mild, sweet curry but clearly I am outnumbered as the Mango Malayan Kurma is one of the restaurant's most popular dishes. Delicate, bite-sized pieces of chicken, lightly spiced with a smooth mango, coconut and cream sauce the colour of a very early morning sun and just begging to be mopped up with a naan bread. And, talking of naan breads; they are cooked in the tandoori oven and boy was this a good one. It was pillow-soft and light and if it hadn't been quite so delicious, I might have been tempted to rest my head on it, just for a moment!
High Street/The Royal Mile is a tourist magnet and a busy place night and day. Eateries line both sides of the mile and there is something to tempt every palate but if it's good, honest Indian/Thai cooking you are looking for in relaxed, friendly surroundings with staff that ooze enthusiasm and efficiency, the Bay of Bengal ticks all the boxes and won't dent your wallet, particularly if you go for the 3 course budget menus (£9.95 at lunchtime, £13.95 in the evening or £8.95 at lunchtime, £12.95 for the 'green cuisine').