Beef and Brew, 323 Kentish Town Road, London, NW5 2TJ  www.beef-and-brew.co.uk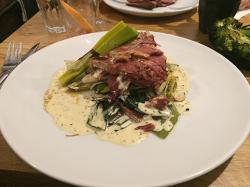 By common consensus, running a restaurant is stressful, difficult and bloody hard work. And given the number of crappy restaurants I've visited in my time, it must be. For every Green Man and French Horn, there's a dozen Garfunkel's, Frankie and Benny's and Angus Steak Houses.
In a terrible piece of synchronicity, the Green Man and French Horn, which was my favourite London restaurant, has recently closed and been replaced by a bloody Real Greek. In the words of a man I once met while waiting for a delayed train at Leeds station – "never goes for yer, does it".
Occasionally though, you do find somewhere that persuades you that maybe you could make a decent stab at being a restaurateur. Somewhere that serves tasty, well-made food without a lot of fuss, with a good drinks list, and bit of buzz. Can't be that tricky, can it?
Well, the subject of today's review, Beef and Brew, is one of those places. A newly opened beef and beer (?!) themed joint in Kentish Town, on our visit they made running a good restaurant look, if not easy, then manageable at least.
The food, from a limited, beef-themed menu, was tasty and cooked with a precision that belies its modest price point. The drinks list has been well chosen, with a load of interesting beers, each with a food pairing, as well as a short selection of wines that come by the glass and carafe. And the atmosphere, despite a slightly utilitarian, butcher's shop feel, was Friday night fun times.
What of the beef then? From a of two steaks, a beef salad, a braise, a trio of beef buns, something with chicken and a sop to the vegetarians in the form of a beetroot salad, we went for the flat iron steak (£12.5) and the brisket braised with leeks and mustard (£12.5). These were washed down with the aid of some cauliflower cheese croquettes, grilled broccoli (both £4) and salt baked chips (£3).
All the meat comes from a specialist butcher down in the West Country and you can tell it has been treated properly. The flat iron was dense with beefiness and a hint of char from the grill. It also came perfectly medium rare, and without the assistance from a sous-vide machine either.
Meanwhile, on the other side of the table was a monstrous portion of braised brisket. This was the kind of hearty dish you'd want to come home to after an afternoon of energetic activity in the pale autumnal sunshine. The girlfriend (all 5ft 2" of her) is a trencherman of the old school and put this lot away without even raising an eyebrow.
Clearly, if you're going to advertise yourself by virtue of the beef and the beer,there are no excuses if you can't get either right, but the quality of the accompanying salt-baked chips was a real clincher. Huge, mountainous shards of potato, tooth-shatteringly crisp on the outside and as fluffy as a walnut whip on the inside, were like your Sunday lunch roast spuds on steroids.  Oh, and the croquettes and broccoli weren't bad either.
So far, so good. So good in fact that we decided to brave the dessert menu – sometimes an after thought in word as well as deed in a place like this. Of the two on offer, our friendly waiter persuaded us to try the brewer's mess brownie sundae, paired with a bottle of the Siren Broken Dream stout: a dreamy combination that was a better match with chocolate than any wine I've ever had.
The head chef at Beef and Brew is Jessica Simmons, who has previously worked for Angela Hartnett at Michelin starred Murano, so it is not surprising that the quality of the cooking is so high. Admittedly, they are not pushing the envelope, but I couldn't give a monkey's about that. Taste is everything and they nailed it. 
I don't visit London's smarter steak houses because the skill-in-the-kitchen to money-spent ratio is not on the diner's side, but that isn't the case at Beef and Brew. And if I was roaming the streets of North London, hungry, thirsty and in search of sustenance, I wouldn't hesitate to go back.
Open Monday dinner and Tuesday to Sunday for lunch and dinner