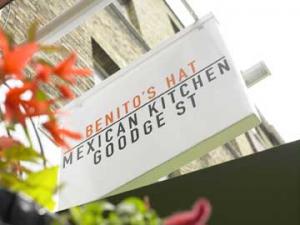 Burrito Deluxe, for those readers older than the internet, surely needs no introduction from me. For our younger audience I should explain it was a 1970 album by the Flying Burrito Brothers, the last to feature the genius of Gram Parsons.
I remember at the time wondering what a burrito was? With no Google to guide me such foreign things were a mystery. In fact I imagined that if anything a burrito was some kind of hat. Now, all these years later, I spookily find myself in Benito's Hat eating a burrito. 'There is a divinity that shapes our ends, rough-hew them how we will.' How very true Will, how very true. Have you finished that sonnet yet? The client's on the 'phone.
The people packed into Benito's Hat this lunchtime probably don't even remember vinyl LPs, let alone Gram Parsons. 'It looks like a Mac Operators' convention!' mutters K as we oldsters shuffle through to a table. K's genuine geezer trilby is violently out of place amongst all these people wearing socks on their heads and my grey hair stands out a bit too.
To be honest I am not a fan of eating with my hands, unless it's a sandwich. The stuff inside tends to run down my sleeves, while things like doner kebabs, apart from the worry of what's inside them, always disintegrate before you've staggered two steps from the shop. However I'm prepared to put prejudice aside today as Benito's Hat has a special lamb burrito barbacoa, which is only on the menu until the end of February 2010. It sounds so interesting its spicy siren song has lured me in.
'Five hours sloooooo cooking,' says Felipe the Head Chef when we ask. 'The lamb is marinated the Puebla way in blended avocado leaves and a lot of rock salt before being wrapped in layers of foil and placed in the oven.' Ok then, so just one question, is it ready yet? Yes it is and we decide to have a steak burrito as well, just to see what Benito normally keeps under his hat.
Ben, who with Felipe, founded Benito's Hat, wanders over from talking to his sister. She's just flown in from the USA and has her hands full with both a baby and a burrito of remarkably similar size and weight. As we drink Dos Equis and munch tacos with two dips, one fiery and one smooth, Ben explains how he came to be owning a Mexican restaurant. ' A year in Texas,' basically,' he says. 'It opened my eyes to what Mexican food should really taste like.'
Since opening Benito's Hat here and in Covent Garden, business has been brisk. This sort of food is perfect to quickly grab and run back to your desk with, but there are tables too if you can get one. No one hangs about long, so you normally can.
Our burritos turn up looking like big silver bombs. These boys are enormous; a 12-inch floury and soft tortilla wraps a mega-mix of meat plus beans, rice, lettuce, cheese, sour cream and salsa and more besides. You can pretty much have whatever you want in your burrito. Even cut in half they're formidable beasts and yet miraculously don't actually fall apart when you furiously cram start cramming them into your gob. You do need a pile of napkins though because it does get a bit messy.
The lamb is excellent, a smoky flavour and a glorious tenderness, all offset by the starchy beans, the piquant salsa and the sour cream. We have half a one each and then eat the steak version, which is very good but the lamb is the winner by a woolly nose. Great value and very filling.
The Barbacoa lamb is reason enough to go to Benito's Hat, but the rest of the menu, all freshly prepared, is a big draw too. There's a good cocktail list, a relaxed atmosphere and, in the fantastic Tres Leche dessert, a pudding that could, with a bit more presentation fluffery, meet the demands of the Michelin inspectors.
I suppose you're waiting for the Hat Ending Joke now, as formally required by the Guild of Restaurant Reviewers? They've all been done before, sorry. So forget your hat, head for Benito's and get barbacoa'd up before they run out.