The Big Chill House 257-259 Pentonville Road King's Cross London
T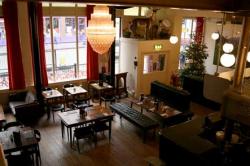 he names of some bars and eateries give little away as to the mood to expect inside. The Big Chill House, on the other hand, tells it like it is. Depending on which way you interpret the name grammatically, this is both a place where you can chill – big time – as well as a big house in which you can chill. Either way, you get the picture: chilling is the name of the game here.
My first impressions: laid back, spacious and somewhat intriguing. The dark walls, dim lights, bamboos and occasional tufts of grass all work together to create a sense of calm. The dark interior is probably a wise choice given that The Big Chill House plays host to weekly music events; it must make cleaning up easier. No establishment with such a name would be complete without plenty of sofas to reinforce the mood – that is, to chill. There are private booths to eat, drink and be merry in whilst catching up with friends – as I did – out of earshot of neighbouring punters.
I decided to start off my evening with a cocktail; the problem was which? One of the usual suspects or something I'd never heard of? Having decided on the latter, the next major decision was which one of the Never Heard Ofs to go for? Just as the agony was getting all too much, the helpful bar staff thankfully pointed me in the direction of the Cocktail of the Week, Pearfect Chillor. No prizes for guessing which puréed fruit is mixed together with the Zubrowka vodka and lemonade to produce this delicious concoction. I must say, my prior agony was soon forgotten as I sipped away. Funnily enough, all my life's agonies were long forgotten in no time as they certainly don't skimp on the alcohol. I reluctantly refrained from having another in order to leave with at least some ladylike decorum
Time for some sustenance and a menu, which presented further choices: burger or some bar snacks; a pizza or a platter; a sandwich or a salad? As there were two of us, we chose a combination of the above. A word of warning at this point: don't sit there wondering why the seemingly friendly staff are not paying you any due attention – the food and drink are ordered at the bar in exchange for a neat little gadget that buzzes at your table when your order is ready. The spicy grilled chorizo came served in an organic bun with rocket and piquillo peppers and gave me the carbs fix I was craving. The seasonal salad was a creative free-range chicken and pomegranate, which was deliciously light and felt healthy too. Vegetarians need not despair as amongst the choices were falafels in flatbread and Portobello mushrooms in a bun.
I took in my surroundings while indulging in the food and drink. The various doors and stairs leading out of this main area beckoned me to go to reconnoitre. I almost missed the stairs opposite the bathrooms which lead to an out of sight mezzanine with two distinct bed-like chill-out areas. It appeared a bit worn up there, which showed it must be quite a happening little hideaway. A set of narrow stairs lead down into a basement chill-out area, which can also be hired out for parties. The snazzy shiny red seating booths had tables suspended from the ceiling and looked, well, cool. Keen to explore more, the only way was up, up to a heated roof terrace high above the cacophony of Kings Cross. The neighbouring room, with facilities for a DJ and slideshows, can be hired out too with the added bonus that it opens out onto the roof terrace.
The evidence of wear and tear in some areas can be excused to an extent since the music events seem just as popular as the affiliated annual music festival. That said the venue still has a certain 'wow' factor and it felt convincingly serious about the business of chilling. Soon The Big Chill House won't be exclusive to Londoners alone and those in Bristol will be pleased to know that a branch is due to open there in October. Enjoy!