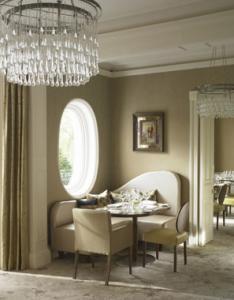 Having recently reported on site that the Bingham Hotel had won two BT Visit London gold awards, for 'Best Small Hotel/B&B' and for 'Best Gastronomic Experience' we decided we must go along and see what all the fuss was about. The Bingham sits on the banks of the Thames, just up from Richmond Bridge and about a 10 minute walk from Richmond Station. The hotel is a handsome building that at night is simply, but beautifully lit, as you enter and are escorted through to the dining area, you are struck by its sophisticated beautifully tasteful decor. It has a quiet elegance about it.
We were seated at our table and handed menus and wine list we were asked if we would like to order drinks which, of course, we did. We studied the imaginative menu, containing 6 starter and 6 main course offerings. From the starter menu we settled upon the pressed rabbit and ham hock terrine and the roast quail. Whilst we waited for these, an amuse bouche arrived for each of us, rabbit rillette, topped with butternut squash veloute itself topped off by crispy duck 'crumbs'. This little taster had an amazing intensity of individual flavours that alone were great but together they reached another level.
Our starters arrived, the terrine, was attractively presented, made up of several distinct layers. It was served with pickled baby carrots, crisp ginger and a foie gras parfait. This dish not only looked striking but it came together beautifully, the gingery pickled carrots and the foie gras working well with the more subtle flavours of the terrine meats. The quail was a filleted breast that had been cooked perfectly, medium rare and was so tender it hardly needed chewing. This was accompanied by a leek potato and artichoke salad, a small portion of potato terrine and some hollandaise, the flavours of the accompanying vegetables and sauce worked really well with the tender and subtle flavoured quail. Each of these two starters were nothing short of excellent.
Moving on to mains, the salt marsh lamb, served medium rare was tender and had great flavour. This was served with a portion of braised lamb shoulder that had an intensity of flavour from its slow braising. Sweetbread, baked aubergine, fried lentil puree and capers completed the dish. This was a lovely plateful of food, with the various elements coming together well, although the capers jarred a little for PA. The roast monkfish served with razor clams, squid, scallop, fennel remoulade, citrus oil and seafood bisque was an amazing dish, brought to the table with the fish on the bowl, the bisque then gently poured into it slowly enveloping the fish. The bisque had a great depth of flavour that complemented the seafood, which had been cooked perfectly, remarkably well. It was superb.
Dessert of jasmine panna cotta, with soft red fruits hibiscus jelly and strawberry sorbet tasted like summer on a plate. It was beautifully light and refreshing. The passion fruit curd was vibrantly tasty, and accompanied well by a citrus salad, blood orange sorbet, vanilla cream and a sprinkling of crumbled meringue had a zingy mouth cleansing effect that was divine.
With our meal we had the Caliterra, Sauvignon Blanc which can be ordered by the glass or 375ml carafe, which had a good crisp freshness to it that was very palatable. Service throughout our meal was remarkably good, professional but friendly throughout the meal. It is easy to see why the Bingham won the BT 'Best Gastronomic Experience' award. Not only did each of Chef Shay Cooper's dishes taste amazingly good, all six were presented beautifully, each looking like works of art on a plate. The Bingham certainly is a great gastronomic experience.