17 Weston Road, Long Ashton, BS41 9LA – 01275 395 222 www.the-pumphouse.com/events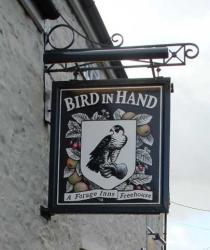 Word of mouth may be the best form of marketing, but to rely on it for a new eatery suggests rare confidence. Sitting, as I often do, in the excellent Pump House on Bristol's harbourside, I heard recently that chef Toby Gritten had a new venture. Maybe I could pick up a leaflet and make a booking? Well, actually, there weren't any leaflets. Further probing revealed that Toby and business partner Dan now run the revitalised the Bird in Hand at nearby Long Ashton. So the Pump House staff wrote down the address and organised a booking.
Long Ashton is the first village in the green belt north of Bristol, three miles from the harbourside. A reasonable walk, were it not for the manic road system in between. But to one side lies glorious Ashton Court, 850 acres of park and woodland belonging to the citizens of Bristol. So a long walk in Ashton Court, followed by another long walk to the Bird in Hand (yes, Long Ashton is long) would be the perfect prelude to a slap-up lunch.
Four of us opted for Saturday lunch without the walk, and went by car. The new Bird in Hand pub sign was promising: a strong black frame with a modernised heraldic design. Mysteriously it announced that this was a 'Forage Inns Free House'. None of us had heard of Forage Inns, and later Googling drew a blank. Perhaps another element in the teasing marketing strategy?
When we got inside the quality of the redesign was impressive. The cosy character of a village pub has been preserved, but clean lines and level floors replace the traditional clutter. To the left a few locals sat in the bar area, which stocks such West country beers as Gem, Tribute and Butcombes. To the right was the dining area, furnished sturdily and half full of diners who looked healthy enough to have done the winter walk that we missed.
When quizzed, our helpful waitress told us about the dishes and that the chefs forage for ingredients, such as wild bittercress, field mushrooms, cobnuts and wild sorrel, for both the Bird in Hand and the Pump House. Toby has even appeared on TV foraging for mushrooms with Jamie Oliver – but not in January, so we couldn't sample the results.
From the half dozen starters we chose pork rillettes with piccalilli and toast, wild Devon mussels with cider and cream, and baked duck egg with Paris browns and brioche. Paris browns may sound like a French version of hash browns, but were mushrooms, presumably unforaged. This dish arrived to 'wows' all round, nestling in its individual back pan straight from the oven.
It proved even more scrumptious than it looked, the rich flavour of the mushrooms perfectly complementing the soft duck egg, and a meal in itself. We had all seen mussels before, but they proved another winner, with melt-in-the-mouth flesh subtly enhanced by the barest hint of cider in the sauce. As a fan of these crustaceans I've never had better. The pork rillettes had a cooler reception; a bit too chewy was the verdict.
We went easy on the lunchtime alcohol, though the wine list had a tempting selection. Between us we sampled Vallemayor, a white Rioja, and Santi Apolstoli, a Pinot Grigio. The Rioja was particularly good, crisp and subtle. And drivers might like to note that our waitress happily served 125ml measures.
The half dozen main courses ranged from battered fish and chips to a more challenging pheasant with pigs' trotters and prunes. We gave those a miss, as we did the bland sounding vegetarian option of potato gnocchi with pumpkin, sage and ricotta. Two of us chose wild Cornish sea bass, cockles and chickpeas with chorizo, but one wanted it without the chorizo, so our ever helpful waitress got gnocchi substituted. The sea bass and cockles proved to be a delight; fresh, aromatic and cooked to that perfect timing that is so important for fish. The gnocchi was, well, gnocchi.
We also chose a slow cooked lamb shoulder with gratin potatoes and gentleman's relish, and rump of local beef with roast root vegetables and horseradish cream. Both dishes came on heavy platters that spoke of serious meatiness – in fact presentation throughout hit all the right notes in enhancing the nature of the food. And they tasted as good as they looked; the lamb was soft and tender from its slow cooking, while the beef was cooked to that subtle level a touch beyond rare that English beef deserves.
We now turned to the second page of the menu. Three desserts, three tempting dessert wines, four English cheeses and five port and brandies vied for our attention. Knowing the peerless quality of the Pump House cheeses I was sorely tempted, but we settled for sharing two desserts. Bitter chocolate terrine with orange jelly and clotted cream sounds an eccentric combination, but I can never resist bitter chocolate. In fact the tangy orange jelly cleverly offset the dark flavour of the chocolate, and the rich clotted cream wrapped over the other two soothingly. Our other dessert was date pudding with butterscotch sauce and vanilla ice cream. The pud was a seriously large dark spongy affair, served warm with the sauce: just the thing for a winter's day, flavoursome, comforting and wholly delicious.
At the foot of the menu is a note in small print saying that all food is hand made on the premises from locally sourced ingredients. That attention to quality and detail was evident throughout the meal, and we were frankly greatly impressed. A fine addition to the best of Bristol dining.