Bistro K/117-119 Old Brompton Road South Kensington/SW7 3RN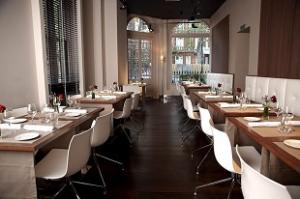 Football and fine dining – f-words that fit like fist and fur ball. So when, in the newly-opened Bistro K – plush, South Kensington deluxe – you see a giant sports telly slap bang in the wall, it comes as no surprise that the bar's owner also owns the Olympique Lyonnais football team. Perhaps Lyonnais' recent fall from grace is down to owner Jean Michel Aulas' energies being diverted to Kensington?
A glance at the menu does prove that you need a footballer's salary to eat here – foie gras starter at £19.60? Aulas' new venture has had a mixed reception so far… not French bistro enough, too pricey, better than its predecessor, the extravagant L'Ambassade de L'Ile…
On first impressions, its stark, muted décor in tawny owl colours is in keeping with this, some would say, sophisticated local market. And those with more modest means could always lounge in the bar and sip, without bitterness, their sweet Kensington Chic cocktail of vodka, mint and passionfruit.
Not me, matey. Having had nowt but a bowl of parsnip soup that day, I was praying this French fare would come in American-sized portions. L, too, had saladed the day away in preparation for our meal. We agonised over the sparse menu, mentally gauging whether the Confit Duck Ballotine would stuff us faster than the Foie Gras 'au Torchon'. That no water or wine was offered for ten minutes didn't help in our deliberations. Finally, L chose – or rather I chose for her – a Celeriac veloute with soft poached Hen's Egg (random capitalisation courtesy of the menu). Mine was to be a Scottish Scallop with Leek Etuvee and Black Truffle Jus.
The veloute was a supremely delicate froth – amazing – although the egg was a little cold rather than cooled. But my scallops, while cooked nicely, exhibited more of a Chinese pallor, truffle jus tasting a little of soy sauce and the texture somehow cornfloured. I had heard that the Scottish Beef Fillet, French Fries and Bearnaise was the bee's knees so despite not eating beef, temporarily shelved my principles. Incidentally, temporarily shelving one's principles is the slidiest slope though not to be explored here in a restaurant review. But my fries tasted like those of Burger King (not that I'd know of course) and the Bearnaise sauce – oh dear – I think we were just last off the pass that night – tasted of rancid butter and sported a skin. However, this was redeemed by L's beautiful Wild Mushrooms Risotto which was inky, heady and creamy.
It was at this point L came over all sickly, I increasingly have this effect. The waitress was lovely and helpful though amusingly thought L was just piddled. I hastily ordered pudding as I could sense our minutes were numbered. I chose a Selection of Seasonal Ice Creams and Sorbets whose names I uselessly failed to deduce from the charming waitress's French accent. The 'Awh-neh," ice cream, however, was tasty, a little melted but fine. So, football and fine dining, a little hit and miss that night, a little fist and fur ball.