I like Abbeville'Village', it's so Nice. The shops sell Nice Things, the butcher sells Nice Meat and all the houses around are Nice. It's all pretty nicely priced too, incomes around here are of the large kind. You rather expect Harry Enfield's character, I Saw You Coming, to open a shop soon.
I'm just jealous of course, the chances of me ever owning a house here are  a likely as Frankie Boyle writing an article for the Daily Mail, but boy would I like to. Instead I must schlep over from Streatham, the postcode that gentrification forgot, and be a tourist instead. Bistro Union, from the man who brought you Trinity in Clapham is billed as a'quintessentially British Bistro', which sounds a bit oxymoronic but you know what they mean. Their new initiative is Sunday Supper Club, a fixed price three courser for £26 that's BYOB, so very affordable, even to those of us who don't live in the area.
And get this, kids under 10 eat free (two kids per adult). Come on, is that a bargain or what? Bookings are from 6-8pm so we chose close to 8pm in the hope that children would be in bed and not close to us, and it seemed to work.
It's a cheerful place, very Bistro and unpretentious with well-spoken staff. We handed over our bottle of Lidl Merlot for opening and no one batted an eyelid, I bet it was the first time a Lidl product had ever been seen in the area.
Bread arrives in a battered old tin, which is quite'charmant', and the butter has been lightly creamed, a French trick which I have rather a weakness for. The Union Snacks to share that follow are (is) a platter. Very good celeriac ravi in a punchy mustardy dressing along with soft boiled eggs, a dish only let down by the crunch of rock salt added at the pass, one presumes, and it's a bit too much salt to be honest.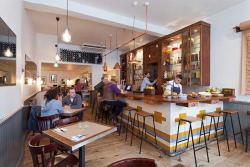 Fresh asparagus, steamed to a perfect snappiness goes down well with its little jug of dressing  but our  favourite of the starters is mussels and squid in a citrus dressing. The fish has been'cooked' by the acids and this results in a far plumper mussel than comes from steaming and with a smooth rich texture. The squid is perfect cooked too. The acidity overall though is a little stronger than I would choose if I was asked but that's personal, P is quite happy with it and with the sourdough bread that accompanies.
The main event changes each time, but today it's pork belly, which has apparently been smoked in-house. The crackling comes on the side and is unusual for not being scored crosshatch style, or at least that's how I always do it to let the heat penetrate. It is very good crackling; noisy in its crispness, but I do feel let down a bit by being very salty. Yes crackling needs salt, but not this much in my opinion.
The smoking of the belly has resulted in, perhaps unsurprisingly, a smoked bacon effect. The meat is extremely tender, the flesh falls apart as it should and gest caught in my teeth as it always does. Is this just me?
We like the accompanying'slaw; the thin apple slices perfect for cutting the fat and the spuds, Rattes if I'm any judge, have been stoved to a wrinkly-skinned concentration of flavour. So not a bad main at all.
Desserts also did well, lavender meringue, whipped cream and lemon curd  – very British, very good.
The Bistro Union Sunday Supper seems a winner to us and a Nice way to spend Sunday evening
Coming up:
3rd May
Guinea Fowl, Mash, Tarragon and Mushrooms
Blood Orange Sorbet
May 10th
Roast Chicken, Wild Garlic Mash and Watercress Salad
Sheep's Yoghurt, Blackcurrants and Almond Brittle
May 17th
Home Cured Salt Beef, Carrots, Horseradish and Herb Dumplings
Raspberry Sorbet
May 24th
Pot Roast Guinea Fowl, Braised Chicory and Spicy Sausage
Warm Tapioca and Tea Soaked Prunes
May 31st
Baked Smoked Haddock, Tomatoes, Fennel and Warm Butter
English Strawberries, Shortbread and Cream
k