Bob Bob Ricard, 1 Upper James Street, London, W1F 9DF www.bobbobricard.com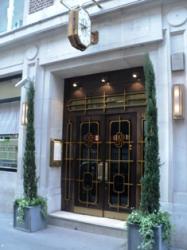 Having been invited to Bob Bob Ricard for a business lunch some weeks ago, I was impressed by the style of the place and, while I only had one course, their amazingly good Cornish crab cake main, made up almost entirely of crab it seemed, I decided then and there that this was a destination to which I must return. Bob Bob Ricard is situated on the corner of Beak Street and Upper James Street and from its exterior, you wouldn't get a feel for the luxuriant quality of its internal decor, until you get to the entrance just a few yards down Upper James Street, that in itself makes a statement that you should expect something rather special inside.
Decorated in bold style, with art deco features throughout, it feels a little like you're on the set of a 1940's film. The whole of the restaurant has very comfortable booth seating with curtains above the seats that can be drawn for extra privacy should you want to, but who would want to? These self-contained spaces give you that feeling anyway. Walls are decorated with bold prints that look like they shouldn't go together but somehow they do and seem like they were made to. And whilst I wouldn't usually mention them, the toilets were amazing, decorated in the same style they had the feel of past grandeur. Given that Bob Bob Ricard is just two years old, it's clear that a lot of work has gone into creating this stylish and interesting space in which to eat and enjoy the experience.
Before starters it was suggested that we might like to try the Zakuski with vodka shots; these are, for want of a better description, Russian canapés – the owners of Bob Bob Ricard are of Russian Heritage and we understand that the restaurant attracts Russian clientele. Always up for a challenge, we went for it. There were four small plates each containing four bite sized morsels: pickled cucumber; salmon roe on hard boiled quail's egg; salo (cured, spiced pork fat, that we were assured tasted like Parma Ham – and did) on rye bread and cured herring with boiled new potato. They were all very good and we were pleased that we tried them, as, so far as I am aware this was our first taste of traditional Russian food.
Starters then arrived. The scallop and shrimp shell pie was a very tasty little dish, very much like a coquilles St Jacques, the scallop shell in which the dish was served had a good sized scallop, in a lovely creamy sauce packed with brown shrimps, with mashed potato piped around its edge. The wafer thin Orkney beef with crunchy celeriac salad was equally good, the thinly sliced rare beef working well with the celeriac, blueberries and roasted hazelnut it was served with. These were two excellent starters.
For mains the chicken Kiev was a beautifully cooked piece of chicken breast, moist and tender throughout, with a lovely garlic flavouring from its centre, its breaded exterior only lightly caramelised from the cooking, so had a delicate crispiness to it. The Kiev came with some sweetcorn and potato mash, the sweetness from the corn blending well with the potato and supporting the chicken perfectly, it is Bob Bob Ricard's signature dish and without question a great one. The poached turbot was a good sized piece of fish, thick and meaty, it was beautifully cooked and this delicate fish was well balanced by some caviar, served on a bed of spinach with some butter sauce and fried seaweed: it was an exceptionally good dish.
Having effectively had three courses, we struggled to get to desserts, but having seen the menu, there was no going back. The chocolate glory was a must. Presented with some flair, the chocolate ball that has been burnished with gold is placed before you then hot chocolate sauce is poured over it till it collapses before your eyes. Its contents a velvety chocolate mousse containing chunks of brownie, cubes of passion fruit and orange jelly and meringue, were excellent as was the chocolate shell and sauce: finished off with some raspberries, it was a decadent dish and a chocolate lover's dream. The knickerbocker glory, looked stunning, the contents of the glass piled some two or more inches above its rim, strawberry ice cream, jelly, fresh fruit, meringue, toasted almond slivers and cream scattered with hundreds and thousands, it transported you back to childhood treats and was divine.
Bob Bob Ricard are renowned for their wine list and their pricing policy related to that. They have a maximum mark up policy that means many of their premiere wines are much cheaper than you will find them in other quality London restaurants. We were quite restrained and had a bottle of Tinpot Hut Sauvignon Blanc with our meal, which at just under £30 we thought was well priced, the range of wines on the list start from just £21. Service throughout our meal was faultless; the staff are very helpful and attentive. Bob Bob Ricard is a great place to eat, you could simply go there and experience the Zakuski and ice cold vodka, or other small plates, with vodka shots or other drinks, alternatively choose from their a la carte menu which has items to suit all pockets. We had a great time there and will definitely go back. We loved it and are sure you will.