5 Hill Street, London TW9 1SX. Tel. 020 8332 0055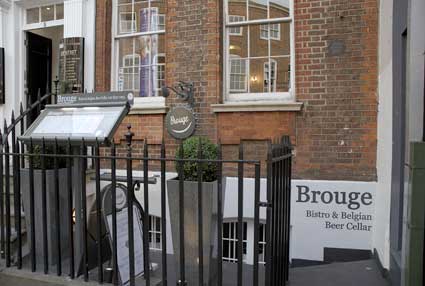 Situated in Richmond's fashionable shopping area, Brouge has been created out of the basement of a former cinema. Its frontage is modest and could easily be missed due to local council restrictions on displays, but having found it and walked down the slate steps to its entrance you are immediately struck by the structure. Several substantial archways, that support the building above, give you the feel that you are in a cellar somewhat deeper below ground than it is. Set out on different levels, some interesting spaces have been created and despite the fact that it is in part subterranean, you get the feel of uncluttered spaciousness, partly from the clean bright décor but also because there is good space between the tables.
Whilst we chose our meal we shared a portion of bread with balsamic vinegar and olive oil, some divinely garlicky marinated olives and a bottle of La Chouffe, a 'Champagne' beer, which had lovely body and depth of flavour with a soft effervescence. A starter of honey and beer spiced ribs were a little sweeter than I thought they might be, but the meat fell from the bone and was lovely. The Salad Liegeoise was also a winner with lardons of bacon sat on top of this garlicky potato salad with green beans. Both dishes were substantial and tasty.
Moving on to mains the catch of the day choice was a good sized fillet of cod that was cooked perfectly, moist and flaky, in a tasty batter and served with a generous portion of chips. From the specials menu, the lamb with garlic and rosemary, one of my personal favourites, had great flavour and was cooked medium rare, exactly as ordered. This came with a tzatziki, that had a nice sharpness from the yoghurt and freshness from the cucumber, and a dish of stoemp (potato, carrot and sweed mash) which was surprisingly full flavoured. We also had a dish of their 'veg of the day' (garlic green beans) which were lovely and had retained some bite. Again both dishes were generously sized and very good. Having finished the bottle of La Chouffe between us with starters, we had separate glasses of draft Steenebrugge Brune a dark beer that supported the lamb well and Duvel, a 'golden' beer that was a good accompaniment to the fish.
Quite full by the time we finished our mains we debated whether to go for a dessert at all, whether to share one, or whether to share two – we went for the third option! This was absolutely the right choice as the cinnamon Belgian waffle, caramel sauce and vanilla ice cream (instead of whipped cream) was excellent, great cinnamon flavour, soft in the middle and a crispy, crunchy crust. Again from the specials menu the trio of fruit compote in a brandy snap basket, strawberry and beer jelly with a vanilla cream topping and lemon sorbet topped with a fresh strawberry was amazing, the sorbet seriously zingy, the jelly fresh tasting, with some tang and the compote intensely fruity. It was well worth going the extra mile – even though walking the few extra miles that might be needed to burn off those calories!
Service at Brouge was efficient and helpful, the staff are very familiar with the range of beers available and will recommend options to go with your meal choices. Apart from the extensive range of beers Brouge has a good selection wines on offer, the house white and red each priced at just under £13, they also had bin ends each priced at just under £11. The menu is very reasonably priced and Brouge have a range of offers that are worth investigating, you can check these out on their web site at www.brouge.co.uk Delivering great food and an exrensive range of Belgian beers, Brouge is well worth a visit.