Bumpkin Chelsea, 119 Sydney Street, SW3 6NR www.bumpkinuk.com
Late October, what a lovely time of year. Just before Halloween and kids holidays and Bonfire night  and super storms, this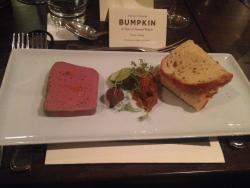 is the perfect time to enjoy some nice warming food by a fireside, maybe listening to some seasonal classics.
Autumn in New York, April in Paris… Why is it that the changing of the guard season is never a cause for musical celebration in London? Back when bands were big and swung harder than the pendulum from  Escaflowne, every other song was about New York or the romanticisms of post-Occupation Paris, but London is severely underrepresented in the 'Songs about seasons' category, which makes no sense.  You'd be hard pressed to find a metropolis better suited to the changing season, and what is autumn without the crunch of leaves in St James' Park or the crispness of an October night as seen from Waterloo Bridge? 
Bumpkin, in their most recently opened location are hitting me where it hurts, right between the seasons. For many people, autumn is the most charming time of year. I love a good spook on Halloween (if you do, click here for our recommendations) and who, not counting faithful pets, doesn't love a good firework display? If you aren't familiar with Bumpkin's fare, think British; everything on the menu is ethically sourced right in our own back yard and heavily influenced by the eccentrics of the British harvest. The Chelsea branch (just off the Kings Road on Sydney Street), with its twee garden and warm interior is really rather a nice place to spend chilly evenings with friends or Sundays with the fam, and the new menu is well thought out and decently priced.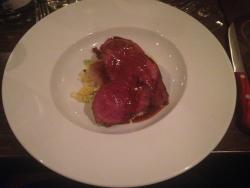 To start, I enjoyed the chicken liver pâtéwith tangy pear chutney and served with sourdough toast, which was delicious and well proportioned. The pear chutney was pleasantly sharp and complemented the richness of the pâté, and the sourdough toast was wonderfully crunchy. My companion for the evening, the poetic Amy, had the West Coast crayfish with Virgin Mary dressing and rye bread, which looked fresh and scrummy.
For main, we both decided to go with the chargrilled Durham Venison haunch with creamed savoy cabbage, crispy bacon lardons, vanilla shallots and a rasin and black pepper sauce. The venison was delightful, mouth-meltingly soft and well cooked, and the cabbage and bacon were excellent accompaniments. Though the plate was small there was a good amount of venison, so quite good value for money and of course damned tasty, too. For drinkypoos, we went for a glass of Pinot Noir de L'Hospitalet, which was a nice complement to the strong flavours of the venison.
Pudding is almost always my favourite, and being a creature totally lacking in both willpower and shame, I expanded my waistline by at least a couple of inches and went for the super-rich (is there any other kind in Chelsea?) Triple chocolate truffle cake with Cornish cream and winter berries. Though the texture and flavours were good, this was a touch too rich for me and Amy, but the combination of the cream and berries was superb, giving it a lightness it needed.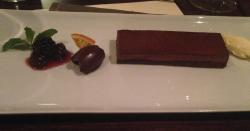 So what did we make of it? If you are already a big fan of Bumpkin this menu will please you no end, and if you haven't tried it yet well, prepare for your conversion. Red trousers and tweed jacket optional.