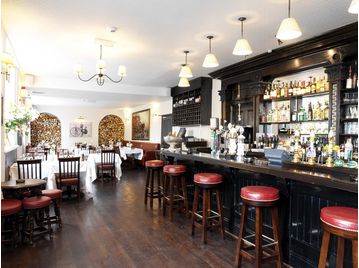 Tom and Ed Martin opened the revamped Cadogan Arms in May, the latest addition to their stable of gastropubs which includes the White Swan in Canary Wharf and Empress of India in Victoria Park.
Step into their new drinking and dining venue in the heart of Chelsea and you're immediately welcomed by an old-English-gentleman themed interior, decked out with stuffed animal heads and Robert Dighton drawings of Georgian aristocrats.
We were also greeted with a lively pub atmosphere thanks to numerous clusters of late-afternoon drinkers as we took our seats in the smallish dining area. We were the only ones eating in an early evening slot, but then the task of building a clientele and reputation for food is harder than attracting people to a well-stocked bar.
The exclusive location was matched by some modish dishes such as smoked Barbary duck breast, green bean and toasted almond salad with lavender and honey dressing on offer as a starter, or pan-roasted veal chop with red wine jus, olive oil mash, and braised shallot for a main (£7.50 and £14.50 respectively). These were balanced by pub staples such as ale-battered haddock, chips, mushy peas and tartare sauce, or an eight-ounce Aberdeen Angus beef burger with Applewood smoked cheddar and French fries.
My fishcakes arrived on bright green mounds of minted pea puree, which alongside the accompanying yellow aioli made for an eye-catching starter. The cod, haddock and potato in breadcrumb were perfectly cooked, the pea puree making an excellent dip. The contrasting textures of crispy pastry and soft, fragrant fungi made my friend's wild mushroom tart with pecorino and truffle dressing also a hit.
The fresh peas made a second appearance in my light main course of goat's cheese, spinach and dandelion leaf salad, with sundried tomatoes and garlic breadsticks, (£12 or £7 as a starter). Although delicious, the balsamic vinegar dressing didn't reach far beyond the first few layers of spinach. The head chef, Darius Endriukaitis, could take a leaf (pun intended) out of Jane Grigson's book, who recommends coating each and every salad leaf with dressing in her 1971 book, Good Things. However, the quality of the gorgeously soft, slightly sweet goat's cheese made up for it.
Our French waitress was friendly and the service fast (but then the chef wasn't exactly being overworked). However, a special of steak sandwich and rocket leaves was served pink when my friend asked for it well done but, in the venue's Englishness had clearly rubbed off on us and we were too polite to mention it.
The waitress's multi-lingual skills came in handy for my friend from Colombia. Her English is limited but having lived in Paris for two years, she was able to speak in French to the waitress and ask questions about the menu.
Portions were on the generous side and the menu had the right combination of family favourites and imaginative ingredients to offer choices for both pub lunchers and more serious food fans.
Desserts at £5 were too good to miss – a superior gastropub experience was rounded off with sweet-and-sharp gooseberry and apple crumbles doused in vanilla custard for us both.
With a little tweaking of the delivery, the Cadogan Arms could become a very worthwhile addition to London's gastropub scene indeed.
50% OFF FOOD AT THE CADOGAN ARMS
Tom and Ed Martin are delighted to offer a fantastic 50% discount on food throughout August and September. To take advantage of the discount, simply book in advance via< www.thecadoganarmschelsea.com