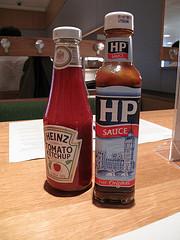 The suffix Canteen never boded well for meal prospects: School Canteen, Staff Canteen, Office Canteen, you knew it meant grisly grey dishes of indeterminate meat served by a woman in a tabard, probably with a cigarette dangling from her lips.
And yet it is a peculiarly British word, an Anglicisation of Cafeteria, but which has extra resonances for most of us Brits. Canteen the Restaurant, post-modern oxymoron ahoy, has capitalised on that subtext with signage that uses classic typography of the 50s and 60s, mostly Gill, (Eric, not A.A.) and an information leaflet cheerfully reminiscent of a WW2 ration book.
Inside, it's as bright and cleanly lit as you anticipate, with features that are straight from the Festival of Britain songbook, a time when people were flush with post-war optimism and the belief we would all be going to work by personal jetpack within a few years.
Canteen is basically the missing link between sandwich shop and restaurant, somewhere to have hot food at a good price, but without the fuss and bother of full-on dining. The furniture is utilitarian but comfy, designery in fact but not self-conscious about it. The paper menu is also the place mat, which makes the bare tables easy to clean for the next customer, and what a menu it is, you can hear Land of Hope and Glory playing in your head as you read it.
For example as starters you've got yer actual Ploughman's (but with Neal's Yard cheeses, not rat-trap cheddar), a pint of prawns (not a litre), Devilled Kidneys to scare away American tourists and, joy of joys, fish finger sandwiches. All good.
Mains, well there's the pie and stew of the day, plus Macaroni Cheese, Sausage and Mash and Fish and Chips to name but a few. Oh and Roast Chicken (breast meat extra), various roast meats and even a bit of steak if you're feeling flush. Plenty of vegetarian options, too.
There's a very good list of excellent bottled British beers, but the ones we had were served ice-cold which had me clutching my teeth in agony. Ok I know it's my own fault that my choppers are in such a mess, but the beers were still too cold – it killed the head and muted the flavours.
Here came the Arbroath Smokey, a fish dish I could never eat as it packs a lot of bones. It's a smoked haddock, basically but not one of those horrible yellow things you buy in sealed plastic bags. Dry salted, and then smoked to a golden brown colour and served simply with a lemon half, it went down well with it's eater who reckoned it was superb and was happily piling up bones and licking his fingers.
I went for the fish finger sandwich, a treat from my student days, and this was good but not the same. For a start the bread was too nice and fresh, there was no margarine and the fish wasn't even finger-shaped! What would Cap'n Birds Eye say to that? Joking apart it was a very good ironic take on a classic piece of scoff; well cooked quality fish pieces in breadcrumbs. With a drop of Sarsons on top and a splash of Heinz Tomato Ketchup I was very happy as bits slid out of the sandwich and onto my lap.
He had fish and chips next; a lovely piece of Plaice, again cooked in breadcrumbs not batter, which is healthy but we both reckoned you can't beat a bit of batter really. The chips though were a terrible let down, anaemic white, undercooked and as limp as Graham Norton's handshake. Most were left uneaten. In this sort of place you expect better chips than that.
The pie fared better with tender chunks of meat and nice gravy, but the cabbage was not right; they'd used the monster outer leaves, the ones I throw on the compost heap, and not cooked them nearly enough to soften them. A nice bright green from being refreshed in cold water, they were otherwise a poor advert for a veg already on most people's list of unwanted 'greens'. Nice mash though, smooth and creamy, but the pastry could have been a bit better.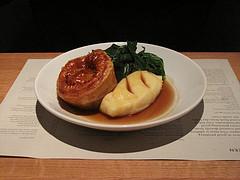 We would have had some dessert but for some reason the waitress just took our plates and the menu away and never came back, so we drank up and left.
I like Canteen, I like its menu. The original Canteen won many awards back in the far off days of 2007, when we all believed that bubbles never burst. Now, older, wiser and chastened we look a bit more closely at what's on our plate. They could do with a bit of a tighten up in the kitchen, particularly by whoever is on that chip station, but Canteen still ticks boxes for me. It has the right work ethic.