4 Newburgh Street, London, W1F 7RF
I am all over this place. Not literally. There are no photos covering the walls and I've lost enough weight for people to consider my self-deprecating fat jokes about filling the entire restaurant somewhat unfounded. However, despite the first two pairs of skinny jeans after 31 years of my life, there's still a gut overhang, so the jokes will continue as will eating burgers at really cool places.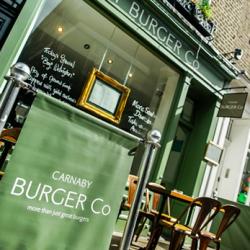 The Carnaby Burger Company is definitely a cool burger joint. Not the same kind of cool as say, Meat Liquor or Beard to Tail, more cool because of the bright colours and outpouring of good karma. I'm not one for homework, (just ask my business partner, Claire), but I did look up the website before going to this restaurant and that's where my admiration begun.
Typically an About Us section would launch pompous bull-poo in ya kisser…'oh we set up and won our stars in a matter of no time, rah rah'…or…'hey, we're trendy, we do crazy off the wall things and take selfies'…but Carnaby Burger Company talks about its social responsibility and community work. I like that. In fact, I love that. There's no hard sell here concerning the food, just the smooth rotating photos of dishes you may want to sample.
As you can guess, Carnaby Burger Company is close to Carnaby Street. In fact, it's tucked just behind on Newburgh Street, so pretty much right in the heart of media land and deserving of having my most media motivated mate along to try it out. He's arguably one of the most positive and good-natured dudes I know, so it's a double test for the restaurant, both on taste and on karma.
The walls have some funky colourful postcard tiles with famous book titles on them – way too many to read them all, but enough to keep you occupied if you get bored of conversation and bring back memories of the titles you've read. I'm not big on reading, but I did look for The Twits and The Fantastic Mr Fox. There are a few tables outside for sunshine and in the back there's a nice bright covered space, almost like a veranda, which is comfy.
So…all very good…how the heck is the food? As far as starters go, the jerk chicken wings are really good, tuck into them if you want some juicy meat on the bone. A bit of a kick, but not too much to put you off.. The calamari is lightly battered and not rubbery, well done guys. The cheesy garlic bread is epic – crisp crunchy bread, not burnt, and a good dollop of cheese and garlic butter. Hmmm…nice start.
There are other main courses aside from burgers, but you don't go into Petsworld and ask for car parts do you? No. Carnaby Burger Company = eat a burger. Given it's lunchtime and there's some scheduled meetings for later I'll resist temptation for a punchy Pepperjack or Original Tex Mex – both contain jalapenos and would normally have be drooling for a heat fix. Instead, I'll try a Barbecue Beef.
The meat patty itself is made from high quality ground rump steak – which sometimes isn't the best thing. I've always been a fan of the cheap burgers, specifically ones you'll find outside football grounds. Same goes for hotdogs. Sometimes when you go too high quality with lean meat and not enough fat, you lose the moisture and flavour. So, there's a tiny worry this might be one of those moments.
I'm wrong. I'm wrong big time. I'm socks with sandals wrong. The burger is really…really…good. It's still moist and it's not been cooked down to the size of a coin. It's robust, it's meaty, it's juicy, it's good to chew and it's soft. I'm chuffed. The option has high quality smoked bacon, melted cheese, crispy onion rings and homemade barbecue sauce. I had a portion of posh fries, which have a sweet chilli & ginger dressing and chunky guacamole. Yeah. You heard. Nice. Eat this burger.
Dessert's pretty straight forward – you either have the dessert of the day or Grandma's Chocolate Mousse. Both are going to be amazing, but don't upset Grandma. She worked hard to make this mousse taste great, so indulge yourself and if you're counting the calories, don't finish the whole portion or share it with your other skinny-obsessed mate.
I'm chuffed, as you can probably tell. A mate tipped me off about this place with a smug smile; I completely understand why now – it's really good quality food and it's not expensive, that's the first box ticked. More importantly, it's not too hipster nor too pretentious, second box ticked. But rarely do you find somewhere that's just amazing from the start for being a positive and caring establishment, that's what I really dig about the place. See for yourself, give the no frills a go, let the food impress you and spend your money with a company that gives back. Woodsy's chuffed with his meal, I'm chuffed with mine. Go for the burgers, stay for the karma.