Central & Co, 22 Great Marlborough Street, London, W1F 7HU,www.centralandco.com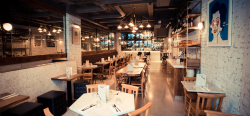 I should probably get this out of the way now: I am, without a hint of irony or shame, a huge fan of musical theatre. As such, a disproportionate amount of my time is spent in the West End, an hour before or after a show, trying to find somewhere decent for a bite to eat and a drink to nurse somewhere that isn't rammed with tourist types taking up too much room with maps the size of London. Central & Co's location therefore, is very attractive to me.
Located on the Great Marlborough Street, and only a stone's throw from Carnaby Street and the Palladium, it is an excellent choice for the smart theatre goer or for a hardworking office type in need of a stiff drink and good, prompt service.
It's on a soggy Tuesday evening that I stumble in to Central & Co, brolly in hand and desperate for a hot meal to warm me up from the inside out. Drowned rat-ness aside, Central & Co inside is very nice, all exposed brick-work and on-trend lighting features. The upstairs is a narrow but fairly cosy room, and the downstairs (the Co part of it) is a dark and warm basement made for cocktails.
Upstairs, the slightly apologetic wine list tells me it's'still evolving.' Whether it goes full Charizard remains to be seen, but then Central & Co doesn't strike as the wine lover's haven. Its speciality is cocktails, and there are many interesting and unique choices available.  From the regular rotation, try the Centrapolitan, made with citrus vodka, cranberry juice and Briotett Poppy liqeur (no bias, I swear!) for a refreshingly London mix, or the Cubble, which is made with B&G Elderflower, fresh cucumber and lemon and bluebell Hindleap Brut for a zesty kick.
To start our meal we decided to go full native and try the cocktails of the month. The Eastern Pineapple Daiquiri was, as you can imagine, overwhelmingly sweet, and coupled with a sugared rim could have very well put me in a diabetic coma, but then, I've never been one for sweet cocktails anyway. My dining partner, M, very much enjoyed it, and he's type two.
He tried the Grape Minds Think Alike, a long cocktail made with red wine, gin, lemon juice, rhubarb biters and topped with soda water. This cocktail tasted exactly like what was in it, and makes a rather nice compromise for those friends who prefer wine but know that gin can be quicker.
So, on to dinner. The menu is very gastro pub. Nothing you can't pronounce, nice and simple, and great for a casual evening out. To start we tucked in to some very agreeable Salmon Fish Cakes, but the real scene stealer was the Chicken Liver Parfait, served with Red Onion Jam and…a Yorkshire pudding. I gawped at in on the menu, I wanted to deride its cheesy-ness, but I couldn't. Surprisingly, the consistency of the Pud works very well with the Chicken Liver Parfait, and is delicious. The red onion jam was also a dream when smeared along side.
For our mains we kept it all very gastro pub, M going for the Steak and me trying the Wild Grilled Fish. The fish, Bream if I remember correctly, was tasty enough, and the accompanying veggies and potatoes were a treat on one of the first truly autumnal evenings of the new season. M's Steak was cooked fine, but was disappointingly, a little cold. The thick cut chips were very nice indeed when paired with the Horseradish Cream.
To finish, indulged our sweet tooth (is there a plural for sweet tooth? Sweet teeth?) with the Apple, Pear Oat and Almond crumble, which was delicious, particularly when pear-ed (not sorry) with the wonderfully sweet Honeycomb Ice cream. Deciding that too much chocolate can never be a bad thing, we also did our duty and ordered the Beetroot & Chocolate Brownie, with Vanilla Ice Cream. I've always found brownies to be a bit too stodgy, but the light coolness of the ice cream was a perfect complement and spared me a chocolate-ly death.